Del Valle student accepted into Harvard with full ride, receives $60K in scholarships
DEL VALLE, Texas - A Del Valle High School senior is looking towards the Ivy League this fall.
Noel Mendez learned last month he had been accepted into Harvard University on a full-ride scholarship.
Mendez is the first person in his family to go to college and plans to study computer science and possibly business with a goal of working for a major company or starting his own, says Del Valle ISD.
In addition to the full ride, Mendez also received a $40,000 Amazon Future Engineer Scholarship and a $20,000 scholarship from Dell Technologies. The district says he is still waiting to hear back from other applications and plans to use those funds to possibly attend graduate school.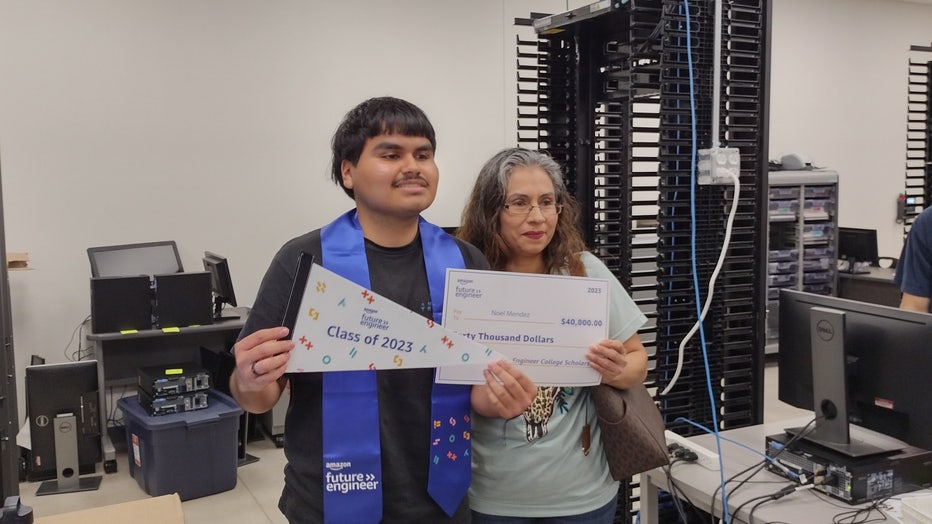 Del Valle HS senior Noel Mendez takes a photo with his mom proudly showing the pendant and scholarshop certificate he received from Amazon. (Amazon)
Del Valle ISD says that Mendez has also had an internship with event planning platform Eventbrite and another set for this summer with H-E-B's software engineering department. The Amazon scholarship also comes with a paid internship after his freshman year of college. 
Since he was a high school freshman, Mendez has been part of the information technology pathway, says Del Valle ISD. He has also independently participated in Code2College, a multi-year, career prep and college access program.
Mendez also participated in debate, the National Honor Society, Red Cross, and various volunteer opportunities, and he is currently the student council president, says the district.