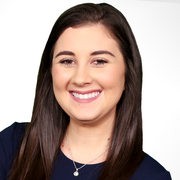 Kacey Bowen
Multimedia Journalist
Kacey Bowen joined the FOX 7 Austin team in March 2020 and is excited to call Austin her new home!
However, Kacey is no stranger to the Lone Star State. She was born and raised in the Houston area, went to college at Texas Christian University (Go Frogs!) and has spent her last two years as a reporter and fill-in anchor at the NBC affiliate in Bryan/College Station. 
During her time in College Station, Kacey covered both funerals of Former President George H.W. Bush and Former First Lady Barbara Bush. She also helped break and cover extensively allegations of sexual misconduct at Texas A&M University. Her coverage prompted Texas A&M to take administrative actions, including new rules and sanctions on sexual misconduct. Her stories ranged from breaking news to cold cases solved by DNA technology, the mistreatment of an inmate in a local jail, and much more. 
Kacey is now excited to continue her news coverage in Austin. She knows everyone has a story to share and is always looking to share yours! 
When she's not in the newsroom, you can find Kacey exploring all of what Austin has to offer and spending time with her friends and family. 
You can connect with Kacey on her Twitter, Facebook or Instagram. Or send her an email (all food recommendations welcomed!) 
 
The latest from Kacey Bowen