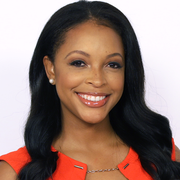 Destiny Chance
Weekend Anchor/Reporter
Destiny Chance is a weekend anchor and reporter for FOX 7 Austin.
She joined the team February 2018.
Before moving to Texas, Destiny was a morning anchor at the FOX affiliate in Augusta, Georgia. She was voted "Best Female News Anchor" by the readers of Augusta Magazine in 2017.
Before moving to Georgia, Destiny launched the morning traffic segment called "Traffic WACH", anchored and reported in the capital city of South Carolina at the FOX affiliate there. She won an RTDNAC award for "best light feature" in 2015, and has covered some of the biggest stories in the state including Emmanuel 9 in Charleston, the removal of the Confederate Flag, and SC's historic flooding in 2015.
Destiny loves spending time with her husband and Cockapoo Ivy Belle in Austin.
Connect with her on social media, and don't hesitate to reach out if you have a good story idea!
The latest from Destiny Chance