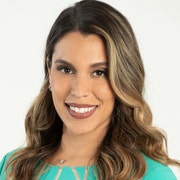 Marcel Clarke
Anchor/Reporter
Marcel Clarke is happy to be back in her home state after several years of pursuing her passion in the Midwest. Marcel joined the FOX 7 team in June 2019 where she will anchor the 6 p.m. newscast. She's excited to not only be closer to home - but to be a part of a strong team that's jumping back into the 6 p.m. business.
Other than on your screen, you can find Marcel on a running or hiking trail.
Marcel started exploring the mountains when she lived in El Paso. She's done nearly every hike in the El Paso and Las Cruces area, as well as some in New Mexico and Colorado.
On her days off - you can also see her spending some time in a local community kitchen. She started this journey in Kansas City, where the KC Nourish volunteer group became her second family.
As a journalist, Marcel wants to hear from YOU! Feel free to connect with her on any of her social media pages if you have story you would like to share with the rest of Austin.
The latest from Marcel Clarke