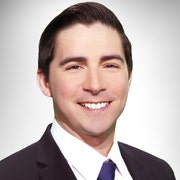 Carlo Falco
Meteorologist
Carlo Falco is an AMS Certified Broadcast Meteorologist on air since 2012. He is originally from the Boston area but has worked in Oklahoma City, Las Vegas and northern California.  He has extensive forecasting experience from all over the country from atmospheric river and winter weather forecasting to extreme heat, snow, freezing rain and severe weather events. 
Carlo Falco is got his Bachelor of Science in Meteorology (May 2009) from Plymouth State University in New Hampshire and a Masters of the Arts in Broadcast Journalism (May 2012) from Emerson College.  He is very excited to call central Texas home and is looking forward to keeping Austin weird.  
Carlo is a weather geek at heart and general all-around nerd.  He loves basically anything "sciencey" and is especially interested in physics, astronomy and earth science topics. He is also a big fan of cars, bicycling, hiking, motorcycles, auto racing and photography.
 
The latest from Carlo Falco