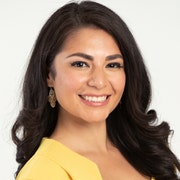 Natalie Martinez
Reporter
Natalie Martinez is a reporter for FOX 7 Austin.
Natalie's interest in journalism stems from government advocacy. She was in high school when Arizona passed SB 1070 and her government teacher encouraged her class to write to their local government officials. She could see the toll the anti-illegal immigration act took on her family and her community. It was then she realized the power of speech and the need to be educated and active in local government.
Natalie kicked off her career in Nebraska for NTV News where she was a multimedia journalist and produced their weekend newscasts. Her weekend team won first place weekend edition for the Associated Press. After a year she left the cornfields for the story book capitol, Abilene, Texas where she was a crime and courts reporter for KTXS News.
Born and raised in San Antonio, Texas, Natalie is happy to be closer to her family and appreciates the rich history of the state's capitol. She enjoys finding fun new places to eat, gloving up for boxing, embracing her Latin roots with dancing and being active in the community.
The latest from Natalie Martinez