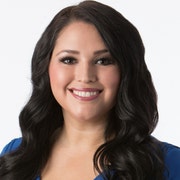 Tania Ortega
Weekend Anchor/Reporter
This California girl is no stranger to the Lone Star State.
Tania Ortega has been making her mark here in Austin since February 2013.
Tania was born in San Diego but grew up in Tijuana, Mexico. Growing up in a border town gave her some life experiences that molded her into the reporter she is today and gives her a unique perspective on many issues facing Texas. Tania previously worked in Waco at the Telemundo and NBC stations. Among the major stories she covered were the Nasar Abdo trial and the Fort Hood Shooting aftermath. She also reported extensively on the Hispanic community.
In her free time Tania enjoys hiking, watching movies and cooking.
You can see Tania every weekend on FOX 7's Good Day Austin.
The latest from Tania Ortega