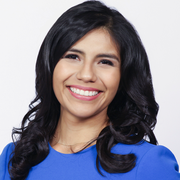 Leslie Rangel
Anchor/Reporter
Award-winning journalist, Leslie Rangel is a co-anchor for Good Day Austin.
Leslie is not new to the Austin area, she was the crime reporter at KXAN News. Before that, Leslie had stops in Oklahoma City at KFOR and Beaumont, TX at KFDM News. While in Austin, Leslie's work was recognized by the Texas Associated Press of Broadcasters. Leslie was awarded best reporter in 2017.
Leslie is a proud Longhorn. She graduated from the University of Texas at Austin with degree in Broadcast Journalism and another in Spanish Language teaching.
Leslie and her husband have two rescue pugs, Harlow and Hiro. Leslie is also a 500-hour registered yoga teacher, fluent in Spanish and loves salsa dancing.
Leslie is thrilled to be so close to home sharing Central Texan's stories.
The latest from Leslie Rangel
Micah Shalom performs live in the studio.
Dan Rohde of Oreja stopped by the studio to perform live.
FOX 7 Austin's Leslie Rangel meets with a Del Valle High School resource officer and gets a look at his unique take on teaching kids life lessons. 
Registered dietitian Stacey Mattinson puts her healthy take on a classic fall dish.
Austin Monthly's David Leffler talks about what they found and Map Pesqueira talks about his life now.
The Belles stopped by Good Day Austin to perform some of their new music.  They are currently on tour opening for JoJo Siwa's "D.R.E.A.M. The Tour"  and will be at the H-E-B Center in Cedar Park tonight, September 18th. They recently released their new EP titled "Nobody Knows Me Better."
The Good Day Austin team answers some questions from viewers about their dating dilemmas. 
Sweet Chili Chicken Lettuce Wraps
Andy Vargas took some time out from touring with Santana to stop by Good Day Austin. Along with the tour, Vargas has a new single out with Frankie J and a new album coming soon.