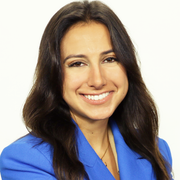 Kelly joined the FOX 7 team in October 2021. She came by way of Kansas, working for KSNT News in Topeka. In her three years as a reporter, she covered Kansas politics, rising crime in the Capitol city, and of course, the Kansas City Chiefs. She also worked as an anchor and producer, creating, writing, and editing entire broadcasts each weekend. There it became a goal of hers to work in Austin, and she is so grateful to be a part of the FOX 7 Austin team.
Kelly is a native of the Empire State, growing up outside of New York City. She graduated from the University of Miami. Kelly was a reporter and executive producer for UMTV's flagship live show Newsvision, investigating subjects such as airboat regulations that killed a student in her graduating class in the Everglades and covering tragedies like the 2018 bridge collapse near Florida International University's campus.
There she also interviewed restauranteurs across Miami in a segment known as The Saberi Special. She welcomes food recommendations around the city and area.
More than anything, she'd love your story ideas. You can reach her at @KellySaberiFOX7 on Twitter, Kelly Saberi FOX 7 on Facebook, and @kellysaberi on Instagram. 
 
The latest from Kelly Saberi