Keep up with weather with the FOX 7 WAPP!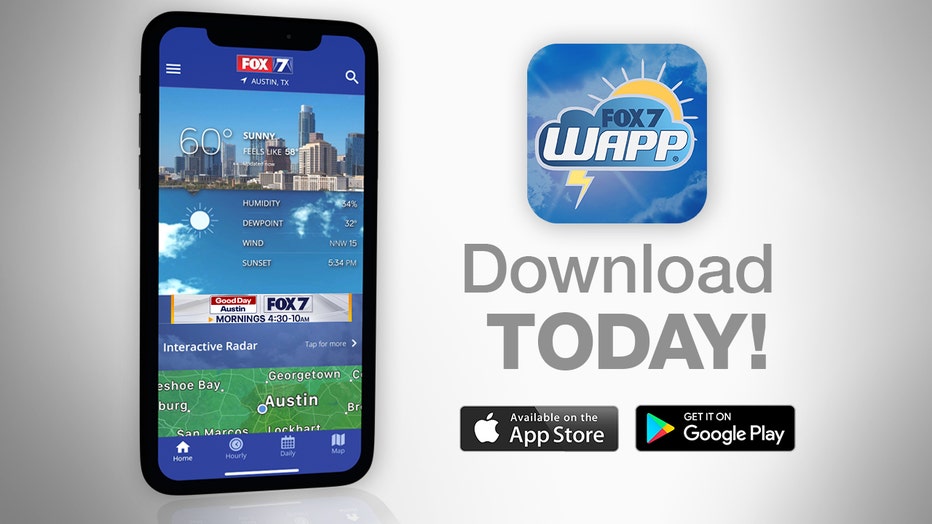 Track your local forecast for the Austin area quickly with the free FOX 7 WAPP. The design gives you radar, hourly, and 7-day weather information just by scrolling. Our weather alerts will warn you early and help you stay safe during storms. 
Why download FOX 7 WAPP?
Get your current forecasts at a glance, with fully integrated GPS to give you accurate conditions wherever you are.

Receive severe storm alerts from the National Weather Service so you can stay safe.

An interactive radar map includes the past hour of a storm's movement and future radar to see where severe weather is headed. Regional lightning data and high-resolution satellite cloud imagery are also included. Radar is optimized for in-network and WiFi performance.

Daily and Hourly forecasts update from our computer models.

Add and save your favorite locations, anywhere in the world.

Video forecasts and live streaming direct from the FOX 7 Weather Center, so you can stay informed.

Share your weather photos and videos easily with FOX 7. Look for them during the news on TV!
DOWNLOAD RIGHT HERE:
Make Your Smart Phone Even Smarter!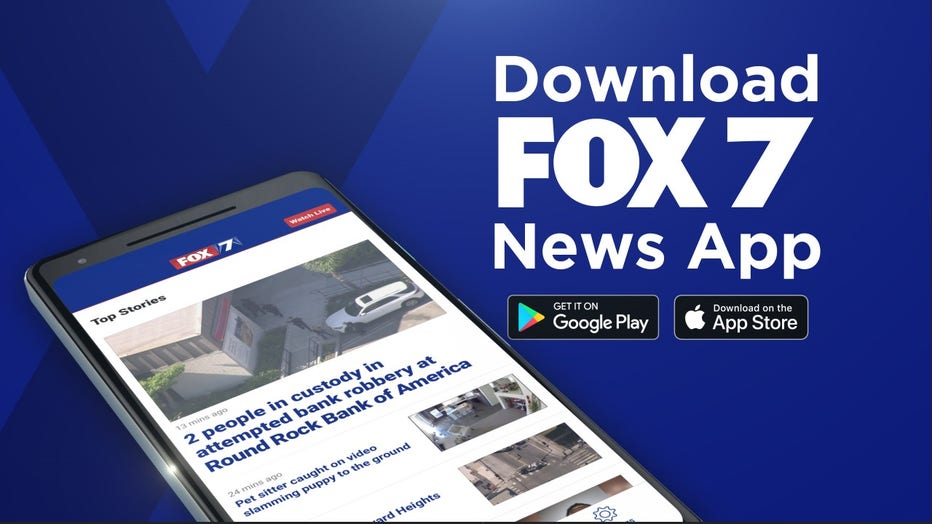 Download the all-new FOX 7 NEWS app powered by FOX7Austin. Local news & weather, Good Day Austin features, and everything else you've come to expect from FOX 7 NEWS and FOX7Austin.com available 24/7. Put the power of Austin's best news team in the palm of your hand.
FEATURES:
Watch GOOD DAY AUSTIN and FOX 7 NEWS Live!

Full weather experience including interactive AccuWeather radar, daily video updates, a 24 hour outlook, extended forecasts, severe weather maps, allergy and lake level info and much more from the FOX 7 Weather Team.

It's easy to upload and share your photos & videos with FOX 7 Austin.

Sign up for Push alerts for Breaking News and weather.

Connect with FOX 7 Austin across all social media platforms and use the share button to share your favorite content.
No matter where you go, take FOX Sports with you on your Smartphone.
FOX Sports is your home for exclusive sports content and live streaming.
Live Sports:
Stream all your favorite sports: MLB, NFL, Boxing, NASCAR, Soccer, NCAA Basketball, NCAA Football, Golf, Tennis, your local NHL, and NBA games, and more.

Plus watch the biggest national sporting events, such as FIFA Women's World Cup France 2019 TM, the 2019 U.S. Open, MLB Post-Season Games, NASCAR Daytona 500, and more.
Trending News and real-time game Alerts:
Stay up-to-date with personalized news and score updates from your favorite teams.

Never miss a moment of news from sports biggest headlines. Don't miss coverage and alerts from 2019 NCAA Men's Basketball Tournament, the 2019 NFL Draft, NBA player news, and more.
Must-see Video Highlights:
Get live game highlights from your point of view, plus key plays and stats, right on the scoreboard.

See highlights from the biggest moments across all your favorite sports: NBA, MLB, Boxing, NASCAR, and more.
FS1 Studio Shows:
Enjoy opinion and debate with top personalities on FS1 Studio Shows - Skip & Shannon: Undisputed, The Herd with Colin Cowherd, First Things First, Speak for Yourself, Lock It In, The Ultimate Fighter, NASCAR Race Hub, and UFC Tonight when you sign in with your TV Provider credentials.

Plus tune in to Fox sports podcasts anytime, anywhere.
Why FOX Sports is Different
Live Video Whenever You Want – Tuning in to catch a game has never been easier.

Enhanced Home Screen - All your favorite teams, scores, news, and live video in one location, personalized to you.

New Game Summaries - Complete with game previews, box scores, play-by-play, recaps, and highlights.* Reimagined User Experience - Upgraded team selection and customizable navigation allows you to personalize your FOX Sports profile and delivers the information you care about most.
All in a big, bold design that puts you at the center of it all.
EULA URL - http://www.foxsports.com/end-user-license-agreement?nav=false
Terms of Use URL - http://www.foxsports.com/terms-of-use?nav=false
DOWNLOAD RIGHT HERE: