How'd he get through? Security in question after Nice attack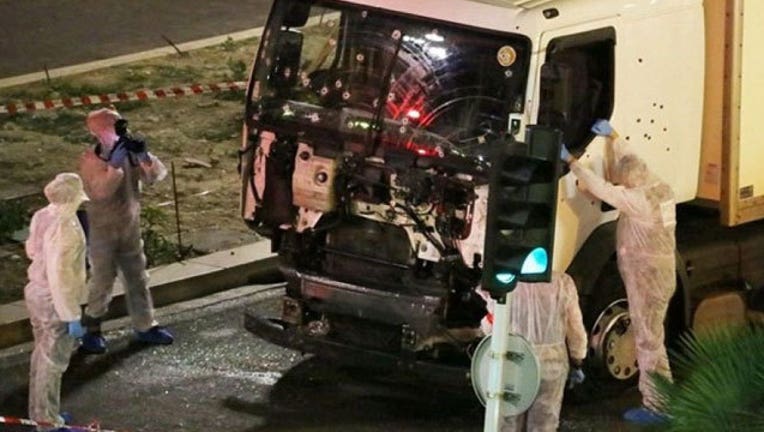 article
This time, France was supposed to have been better prepared.
Despite a state of emergency following two recent terror attacks, authorities in France are facing criticism that they should have done more to protect one of the softest of soft targets: A pedestrian zone in Nice where 30,000 people — families and fun-seekers among them — turned out for Bastille Day celebrations that were turned to tragedy by a truck driver's deadly rampage.
More than 120 police officers and soldiers were deployed at the festivities, according to the Interior Ministry. But critics are saying that wasn't enough to protect the several miles-long stretch of the city's seaside Promenade des Anglais that had been closed to traffic. During Thursday's fireworks display, the attacker was able to drive a 19-ton truck through police controls and barrel 2 kilometers (1.2 miles) through the crowd, killing 84 people, before being shot death by police.
Previous attacks in Paris, Brussels and beyond exposed France's and Europe's vulnerability to extremist attacks by affiliates and supporters of radical groups like Islamic State and al-Qaida. Thursday's killing spree now underlined the difficulties of guarding against attacks when an everyday vehicle can be turned into a devastating weapon.
"Now is the time for mourning, but I sense that anger is growing," Christian Estrosi, the conservative president of the greater Nice region, told France Info radio.
Estrosi, a member of the opposition Republicans, said he had requested that the police presence be reinforced in Nice ahead of the fireworks display but was told there was no need. In an open letter published on the Nice Matin newspaper's website, he denounced France's current Socialist leadership as "incapable."
Interior Minister Bernard Cazeneuve said high security had been assured in the region, pointing to the Cannes Film Festival in May and the Nice Carnival in February.
Speaking to reporters Saturday, Cazeneuve said police vehicles were blocking the entrance to the promenade but the truck "forced its way through by mounting the sidewalk."
France is heading into elections next year, and at a time when President Francois Hollande is deeply unpopular, rivals within his own Socialist Party, from the right-wing Republicans, and from the far-right National Front are jockeying for position.
In a France 2 TV interview Friday evening, Prime Minister Manuel Valls insisted there was no breakdown in security and lashed out at critics for playing politics. Government spokesman Stephane Le Foll warned against attempts to divide the country, calling for "unity and cohesion."
"This attack is one of those attacks that is almost impossible to stop," said Charles Heyman, a defense and security analyst and former editor of Jane's Police and Security Handbook. "This was a lone wolf-attack, and every society at risk of a lone-wolf attack: You just have to soak them up."
But the deployment of just over 100 police and soldiers "sounds like a very small number" to protect a crowd of 30,000, he said. "My gut feeling is that you would have in excess of 200 at least, with more police in reserve" to intervene if necessary.
The Interior Ministry's regional office said in a statement Saturday that it had worked with the regional security department and local Nice authorities to form the security plan for the event. It said 64 members of the national police were deployed — more than the original plan called for — along with 42 from municipal police and 20 soldiers. They largely guarded the route's perimeter, along with an unspecified number of plainclothes police among the crowd.
It said 1,400 security cameras were operating in the city.
The truck's driver, 31-year-old Tunisian Mohamed Bouhlel, had a record for petty crimes, but was not on a radicalization watch list.
The Islamic State group on Saturday claimed the attack was carried out by one of its "soldiers" inspired by its calls for civilians to be targeted, though it didn't name Bouhlel in its statement.
Both IS and al-Qaida in the Arabian Peninsula have called on supporters — especially Muslims in France — to use any weapons at hand and attack anywhere. AQIP released propaganda depicting a truck as "the ultimate mowing machine," while IS urged French supporters to "run them over with your cars," just days after the November attacks in Paris.
Even if the motives remain unclear, critics fault the government for letting its guard down.
"If there really was a state of emergency we should not have had a gathering like the fireworks show. We forgot. We forgot because the Euro went well," Nathalie Goulet, a senator who headed a commission investigating jihadi recruitment networks, told the AP. She was referring to the European soccer tournament that France hosted this summer, which was marred by rowdy fans but saw no terror attacks.
After the attach, Hollande extended for three months the state of emergency put in place after multiple extremist attacks in and near Paris on Nov. 13. The decree allows searches of homes without a warrant and house-arrests of suspects without formal charge. It also lets authorities ban any gathering deemed a security risk.
"We know Nice was a target ... of course my colleagues knew the city was in danger, under pressure," Alliance police union official Laurent Laubry told i-Tele cable news network, noting how a Nice police officer had been stabbed by a suspected extremist in January.
Michel Thooris of the right-leaning Action Police union blamed lax application of the state of emergency and said the government hasn't controlled borders.
Thooris also noted how a government decision several years ago weakened the type of bullet that French police can use, rendering the ones fired Thursday less effective against the heavy-duty truck frame. He also said authorities could have rolled out mobile spiked barriers in the road to block any wayward vehicle, and noted that metal barriers and even mere plastic ribbon were used to cordon off areas in Nice.
"This state of emergency has been used as a tool of communication, not a tool really to fight terrorism," he said.
But Luc Poignant of the left-leaning Unite SGP Force Ouvriere police union doubted a spiked roadway barrier would have worked. "When you have a 19-ton truck, not much is going to stop it — whether a barrier, an officer or a tape line," he said.
"Afterward, people will always say that we should have done things differently."
___
Lori Hinnant in Perigueux, France contributed to this report.