RECALL: Death of toddler prompts recall of over 316K chests of drawers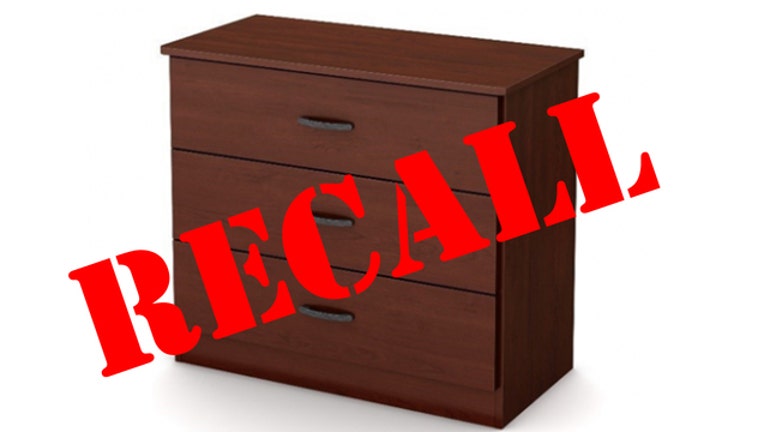 (FOX 7 Austin) - Canadian furniture company South Shores Industries Ltd has issued a recall for over 316,000 chests of drawers sold in the US and Canada after a toddler died due to an unanchored three-drawer chest.
According to the May 9 recall, the Libra-style chests are unstable if not properly anchored to the wall and pose serious tip-over and entrapment hazards that could result in death or injuries to children.
The chests were sold in nine colors (royal cherry, black, chocolate, white, natural maple, soft gray, gray oak, country pine and rustic oak) and each drawer has one metal handle. The chests measure 27 1/2 inches high by 31 1/4 inches wide and 15 1/2 inches deep and weigh about 56 pounds each.
Some models were sold as part of a three-piece bedroom set with a bed and a nightstand. According to the recall, only the three-drawer chests are included.
The units, manufactured in Canada and Mexico, were sold online at Walmart, Amazon, Target and other online retailers from October 2009 to July 2018 for around $60. About 310,000 were sold in the US and an additional 6,900 were sold in Canada.
According to the recall, consumers are advised to immediately stop using any recalled chest that is not properly anchored, place it in an area any children cannot access and contact South Shore.
Consumers have three recall options:
Receive a full refund with free pick-up of the chest

Remove the drawer slides from one side of the chest and receive packaging with a prepaid shipping label to mail in for a full refund

Receive a free tip-over restraint kit and request a one-time free in-home installation of the kit
The recall stemmed from two reports of tip-over incidents, one involving a child who received bruises on his leg and scratches and one involving the death of a two-year-old.
Consumers can contact South Shore by calling toll free 855-215-4932 from 8 a.m. to 5 p.m. EST Monday through Friday or by going to their website and click on Recall Information.
To read the full recall notice, visit the Consumer Product Safety Commission's website.