Robots, Keurigs of ice cream and beer at LG's Inspiration Gallery at SXSW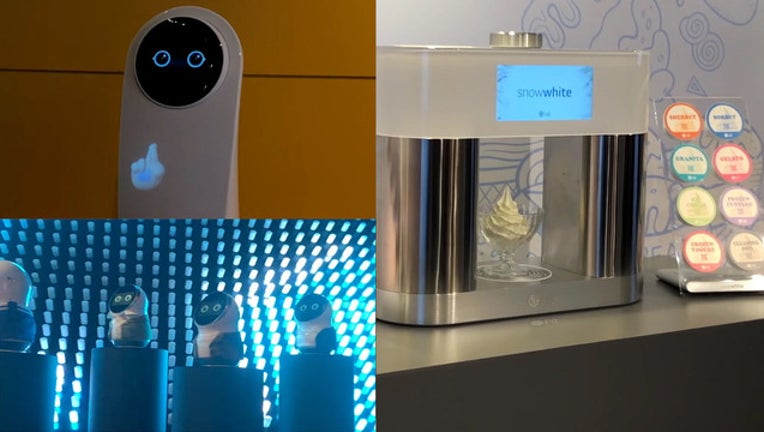 article
AUSTIN (FOX 26) - Robots that can recognize and react to your human emotions?
A Keurig-like machine that can make your ice cream, and a similar device that can make beer from a pod?!
Those are some of the innovative products on display at the LG Inspiration Gallery at SXSW. It was LG Electronics' first time showcasing at the festival and attendees were floored by the technology.
Greeting people are the latest additions to the AI robot line, LG CLOi. The line features robots that recognize your emotional state and can express a variety of feelings including the four major emotions: joy, peace, sadness and anger; robots that recognize space and objects and can pick things up; and robots that can play with pets and children, and keep an eye on the home while using sign language and gestures to communicate.
Also on display, a new audience-interaction concept for performances known as the fantastick. The unique light allows the audience to become part of a colorful performance at a show they attend.
For ice cream lovers, snowwhite was a sweet treat! It's a personal ice cream maker that uses specialized capsules that create different flavors and textures, allowing anyone to make the frozen dessert they desire – from traditional ice cream to sorbet to gelato and even frozen yogurt.
But if a cold beer is more to your liking, the new LG HomeBrew capsule-based craft beer maker is where you'd gravitate. Like the snowwhite, this brew-making device uses capsules to create homemade craft beer in a matter of seconds.
And you can drink it while watching a game on the world's first rollable TV – the LG SIGNATURE OLED TV R. It's a razor-thin 65-inch 4K Ultra HD flexible display that can be tucked away at the end of the day. It was the most-awarded TV from CES 2019.
Are we getting smart enough yet?