Scientists find minivan-sized sponge, world's largest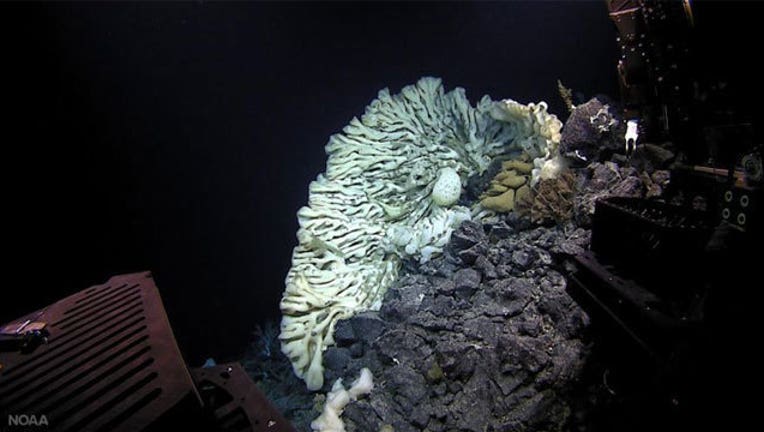 HONOLULU (AP) — Researchers in Hawaii have been absorbed by a sea creature they discovered last summer, and their findings are pretty big.
The team of scientists on a deep-sea expedition in the waters off Hawaii discovered what they say is the world's largest known sponge.
The creature, roughly the size of a minivan, was discovered about 7,000 feet down in a marine conservation area off the shores of the Northwestern Hawaiian Islands. The rare sponge, with a bluish-white color and brain-like appearance, stunned scientists when it appeared in the remote cameras attached to their underwater rover.
Scientists from the National Oceanic and Atmospheric Administration and the University of Hawaii studied the sponge for about a year before releasing their findings.
"The largest portion of our planet lies in deep waters, the vast majority of which has never been explored," Papahanaumokuakea research specialist Daniel Wagner with NOAA's Office of National Marine Sanctuaries said in a statement released Wednesday. "Finding such an enormous and presumably old sponge emphasizes how much can be learned from studying deep and pristine environments."
A study published this week in the scientific journal Marine Biodiversity described the massive creature.
The animal was found in the waters of the Papahanaumokuakea Marine National Monument, which is the largest protected conservation area in the United States and one of the largest in the world. It covers an area that is bigger than all the other U.S. national parks combined.
Christopher Kelley, program biologist at the Hawaii Undersea Research Lab, who helped lead the expedition with Wagner, said the crew captured images of the sponge with remote underwater cameras that were positioned above their underwater research vehicle. They then used laser points to measure parts of the sponge and also carefully measured the vehicle and compared those dimensions to the images they had of the sponge and vehicle together to determine its size.
Kelley said they took samples of a sponge of the same species they found the day before the larger one and sent them to the world's top experts, and no one could identify what genus the sponge belongs to.
"Here's this animal that has presumably never been encountered before and it's enormous and that kind of bring up a little intrigue for deep water and what else exists down there," he said.
While this particular sponge is only incrementally larger than other sponges found, the researchers say it shows the value in exploring the ocean's depths to discover unknown and mysterious forms of life.
They pored over scientific literature and found this was the largest documented sponge to date.
Paul Dayton, professor emeritus at Scripps Institution of Oceanography in La Jolla, California has studied large sponges in the Antarctic.
"Certainly I can agree that this is a very large sponge indeed, the largest I have heard of," Dayton said in an email to The Associated Press. "It is incrementally larger than the ones off British Columbia and they might find an even bigger one, but surely this is the biggest sponge I have ever heard of."
Joseph Pawlik, a professor in the department of biology and marine biology at the University of North Carolina, Wilmington said getting a good sense of the size of these large sponges can be difficult. He has studied large barrel sponges that grow to very large sizes, and has come up with a method of estimating their age and size based on volume.
"Largest implies volume," he said. "We have some pretty substantial sponges that are barrel sponges that have huge volume."
Sponges are similar to coral reefs in that they provide critical habitat for other sea life and filter large amounts of sea water and remove material other animals in the ocean don't eat.
According to scientists, some of the large sponges found in more shallow waters have been estimated to be over 2,300 years old, leading researchers to wonder how old some of these deep-sea organisms that have never been encountered can become.
___
Follow Caleb Jones on Twitter: https://twitter.com/CalebAP Find more of his work here: http://bigstory.ap.org/journalist/caleb-jones