Alexandria Ocasio-Cortez expresses shock that lobbyists pay homeless to wait in line for hearings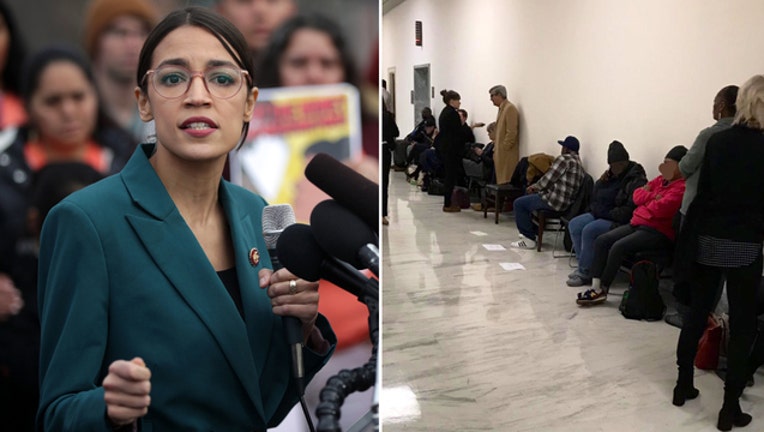 article
WASHINGTON (FOX 5 DC) - First-term Democratic Congresswoman Alexandria Ocasio-Cortez has expressed shock after discovering the controversial practice of lobbyists paying homeless people to hold spots in line for them to attend important Congressional hearings.
The freshman congresswoman from New York, who was the youngest woman to ever be elected to Congress, took to Twitter on Wednesday to point out the practice and said, "Apparently this is a normal practice, and people don't bat an eye."
"Shock doesn't begin to cover it. Today I left a hearing on homelessness and saw tons of people camped outside committee," Ocasio-Cortez tweeted. "I turned to my staff and asked if it was a demonstration. 'No,' they said. 'Lobbyists pay the homeless and others to hold their place so they can get in 1st.'"
Ocasio-Cortez said the line she witnessed was for a hearing on marijuana banking laws.
RELATED: Alexandria Ocasio-Cortez calls Green New Deal a 'life and death' issue
The controversial practice has been occurring on Capitol Hill for decades. Those in opposition of the practice believe seats for a public hearing should not be for sale and find the practice demeaning.
Several companies offer lined-standing services in the District, whether for Congressional hearings, restaurants, events or shopping. Linestanding.com's site director Michael Glasser told the Washington Post that their service was available for $48 an hour.
RELATED: Alexandria Ocasio-Cortez calls climate change 'our World War II,' warns world will end in 12 years
Some people have noted that not all people who line-stand are homeless, and some look to it as supplemental income or for seasonal work.