At GDC, all eyes are on Google's upcoming game streaming service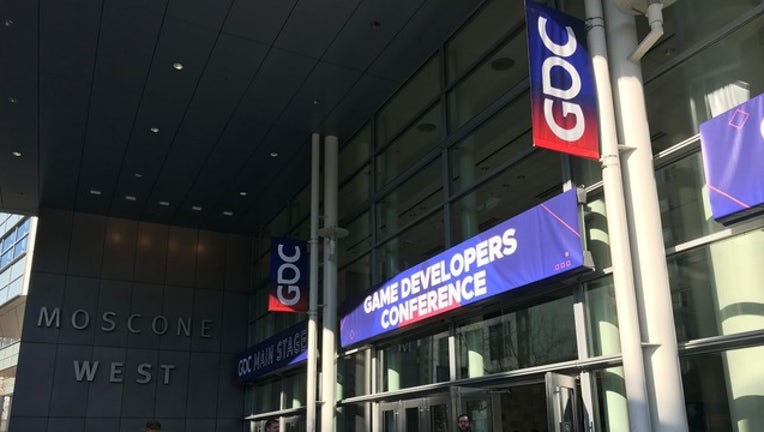 article
SAN FRANCISCO, Calif. (KTVU) - There's an undeniable buzz in the air at the GDC (Game Developers Conference), which will see over 35,000 attendees this week.
Pretty much all the tech giants are there - Amazon, Microsoft, and Facebook, to name some. However, the most anticipated keynote session at GDC is from Google, which is scheduled to reveal its upcoming videogame streaming service. Widely referred to as a 'Netflix for gaming.'
All will be revealed about it at 10 a.m. PST at the Moscone Convention Center on Tuesday.  
Just like Netflix took away the need for a DVD player, this game streaming service is expected to do away with the need for a beefy game console, or a PC with an expensive graphics card.
The premise here is that all the graphics processing will be done in the cloud, enabling entry-level devices, like smart TVs, smartphones and laptops to render console-quality games that were previously beyond their processing capabilities.  
Google posted a teaser on Twitter earlier last week, which calls its upcoming launch the "Future of Gaming".
Much has already been uncovered by the tech press – a year ago, The Information wrote that Google was working on a project codenamed Yeti, a game streaming service that would stream games to Google's Chromecast or possibly a Google-made console. 
Google also ran a public test of Project Stream, partnering with Ubisoft to release a streaming version of Assassin's Creed Odyssey in October 2018. Google has also filed a patent for a console-style game controller, which leads us to believe that their game service will be more like a console game platform than a PC gaming platform.  
It's Google's attempt at staking a claim in the multibillion-dollar videogame industry, which generated $43.4 billion in revenue in the US in 2018, according to data released by the Entertainment Software Association (ESA) and NPD Group.
While Google owns a piece of the mobile gaming pie thanks to Android, the videogame industry is dominated by companies such as Microsoft, Sony, and Nintendo - companies which manage both the hardware and the platform, and to some extent, companies like Valve, which runs the Steam game distribution for PCs. 
As 5G networks get rolled out, cloud gaming services will be able to take advantage of its low-latency and high speeds. "Cloud gaming services will erode the appeal of traditional gaming consoles, leading us to believe that the next generation of game consoles will be the last," said Matthew Bailey, Senior Analyst at market research firm Ovum in an emailed statement. 
"Will it be a net positive for the industry? I don't know. It depends on how exploitative it is, or isn't. It finally comes down to how they treat the developers," said Terence Tolman, concept artist at Against Gravity, a Seattle-based game studio. "The gamers are going to follow whatever is the easiest to access. A great thing to do would be to just have people on staff, to hire them, in small teams to make games for your platform. Or fund them. That would be ideal. I don't know if they would do that," he added. 
According to GDC's State of the Game Industry 2019 report, which surveyed over 4,000 game developers, a majority feel Valve's 30 percent cut of game revenue is unjustified. In comparison, the Epic Games Store, which launched late last year charges just 12 percent, and Discord Store charges only 10 percent.