Biden, Harris, Trump, Pence should get coronavirus vaccine as soon as possible, Fauci says
Dr. Anthony Fauci, director of the National Institute of Allergy and Infectious Diseases, suggested Tuesday that both President-elect Joe Biden and current President Donald Trump should get vaccinated for the coronavirus as soon as possible.
Hundreds of hospitals around the country began dispensing COVID-19 shots to their workers in a rapid expansion of the U.S. vaccination drive Tuesday, while a second vaccine moved to the cusp of government authorization.
The first 3 million shots are being strictly rationed to front-line health workers and nursing home patients, with hundreds of millions more shots needed over the coming months to protect most Americans.
During an interview with Good Morning America's George Stephanopoulos on Tuesday, Fauci said Biden should get the vaccine as soon as he is given the OK.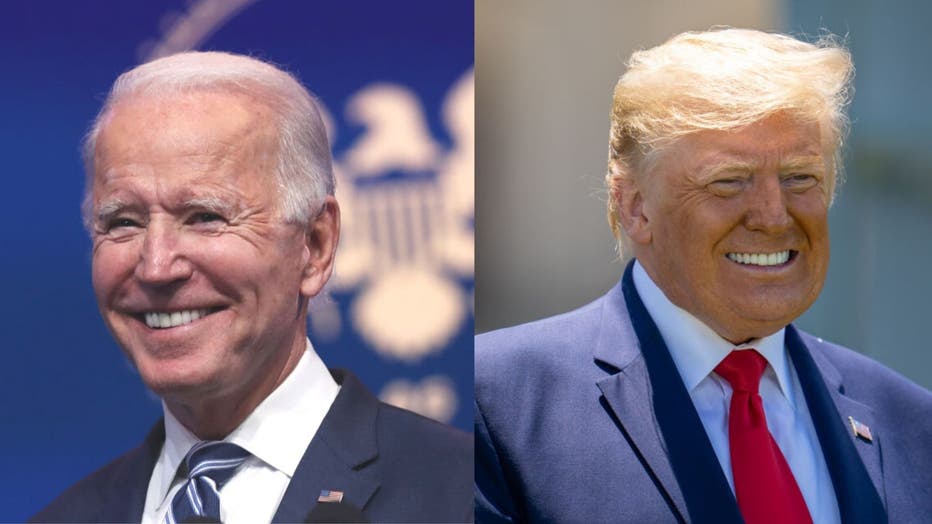 FILE - Side-by-side photo collage of President-elect Joe Biden and President Donald Trump.
"This is a person who, very soon, will be the president of the United States. Vice President-elect Kamala Harris, will very soon be the vice president of the United States. For security reasons, I really feel strongly that we should get them vaccinated as soon as we possibly can. You want him fully protected as he enters into the presidency in January. So that would be my strong recommendation," Fauci said.
And despite the current president already having had the novel coronavirus and getting over it, Fauci still believes it makes sense for both Trump, as well as Vice President Mike Pence, to get the vaccine because it's important to "protect people who are very important to our country," Fauci said.
"You know, if he (Trump) were asking me, I would recommend that he do that, as well as Vice President Pence. You still want to protect people who are very important to our country right now. Even though the president himself was infected, and he has, likely, antibodies that likely would be protective. We're not sure how long that protection lasts. So to be doubly sure, I would recommend that he get vaccinated, as well as the vice president," Fauci said.
RELATED: FDA says preliminary analysis confirms effectiveness, safety of Moderna COVID-19 vaccine
Fauci spoke of the incredible technological advancements that allowed a vaccine to be created in record time. He applauded the speed with which the vaccine was developed while reminding the public that the country and the world still had "a struggle ahead."
"We're still in a terrible situation with the numbers... the deaths, the hospitalizations, the number of cases; and yet we're really now starting to see the light at the end of the tunnel that is going to ultimately get us through this," Fauci said.
"We know we're going to be able to put this behind us, but in the meantime, we still have a struggle ahead of us. So we've got to get people vaccinated as quickly and as expeditiously as we possibly can until we get that herd immunity, as we say, which will require, in my opinion, about 75-80% of the population getting vaccinated. But in the meantime, we have to adhere to the public health measures in order to blunt the acceleration of these terrible numbers that we hear every day," Fauci said.
The devastating toll of the virus is only expected to grow in coming weeks, fueled by holiday travel, family gatherings and lax adherence to mask-wearing and other precautions.
RELATED: Biden to take oath outside Capitol amid COVID-19 restrictions
A day after the rollout of Pfizer-BioNTech's coronavirus vaccine, the U.S. Food and Drug Administration said its preliminary analysis confirmed the effectiveness and safety of a vaccine developed by Moderna and the National Institutes of Health. A panel of outside experts is expected to vote to recommend the formula on Thursday, with the FDA's green light coming soon thereafter.
RELATED: Bush, Obama, Clinton say they'd get COVID-19 vaccine publicly to boost confidence
The Moderna vaccine uses the same technology as Pfizer-BioNTech's and showed similarly strong protection against COVID-19 but is easier to handle because it does not need to be kept in the deep freeze at minus 94 degrees Fahrenheit (minus 70 Celsius).
Another weapon against the outbreak can't come soon enough: The number of dead in the U.S. passed a staggering 300,000 on Monday, according to Johns Hopkins University, with about 2,400 deaths and over 210,000 new cases per day on average.
The Associated Press contributed to this report.