ChatGPT: What you should know about the AI chatbot and its impacts, both good and bad
PHOENIX - For months, a spirited debate has been going on over ChatGPT, as well as its impact, both positive and negative, on society in general.
By extension, the debate has spread to other, similar artificial intelligence chatbots, as well as AI in general.
Here's what you should know about the chatbot technology.
What is ChatGPT?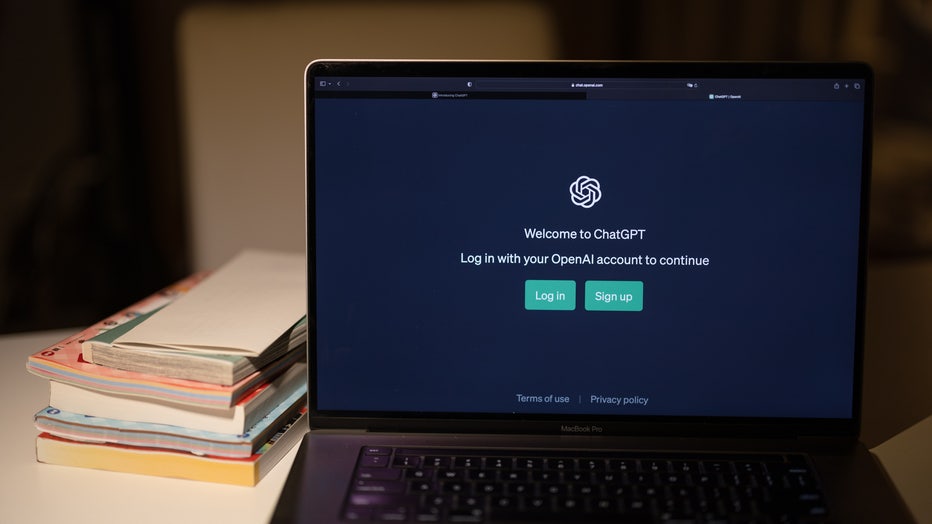 A ChatGPT log seen displayed on a laptop screen. (Photo Illustration by Stanislav Kogiku/SOPA Images/LightRocket via Getty Images)
According to OpenAI's website, ChatGPT is a chatbot model that can interact with users in a conversational manner.
"The dialogue format makes it possible for ChatGPT to answer followup questions, admit its mistakes, challenge incorrect premises, and reject inappropriate requests," read a portion of the website.
OpenAI describes itself as an AI research and deployment company.
"Our mission is to ensure that artificial general intelligence benefits all of humanity," read a portion of their website.
The company, according to the Associated press, has a close relationship with Microsoft.
Is ChatGPT some sort of new technology?
Yes and no.
In terms of ChatGPT itself, the service, according to the AP, launched in November 2022. A number of updates were released since the chatbot's initial release.
However, an AP article states that technologies similar to ChatGPT, technically known as "large language models," was already built into customer service chatbots, Google searches and autocomplete e-mail features by the time ChatGPT launched.
The history of chatbots, meanwhile, goes back even further. According to a 2019 article on the website of the Institute of Electrical and Electronics Engineers (IEEE), the first chatbot was created between 1964 and 1966, by a German-American computer scientist at MIT's artificial intelligence lab named Joseph Weizenbaum.
So, how does it work?
There are two versions of ChatGPT: a free version that is "available when demand is low," and a paid, $20 per month version that is available "even when demand is high," according to the website. The paid version also has faster response speed, as well as priority access to new features.
In any case, ChatGPT's user interface looks like a chatroom, with users sending questions or requests to the chatbot in the form of a message, and the chatbot would then generate a response.
For example, a user can ask the chatbot to "write a poem for Mother's Day," and the chatbot will generate a poem. A user can also ask the chatbot for ideas on a first date, or a wedding anniversary.
Based on a test we did on ChatGPT, other, more complex requests that the chatbot can handle include (but not limited to):
A request for a history essay
A request for a letter to be sent to an employee who is being laid off
A request for a letter to be sent to an employer, where an employee is requesting a day off.
A request for a short business proposal letter
A request for a restaurant commercial script
The chatbot can also give responses in languages other than English. In our tests, the chatbot wrote an essay in Traditional and Simplified Chinese, as well as in Spanish and French.
Are there any limitations?
Firstly, not all requests will yield a response. For example, when we asked the chatbot for the current time, it did not yield a response that contains an answer.
Also, the chatbot's front page states that the bot is trained to decline inappropriate requests.
Based on our tests with ChatGPT, the bot will not generate a response to requests on how to cheat on a driver's license exam. The bot will, instead, generate a response that states it is not appropriate or ethical for it to give guidance on such issues.
We received similar responses when we asked the bot for guidance on how to cheat on a school exam, as well as guidance on how to cheat on taxes.
In addition, the chatbot's front page states that the bot could generate incorrect information on occasion, and could, on occasions, produce harmful instructions or biased content. In addition, the bot has limited knowledge of world and events after 2021.
Are there other AI chatbots out there?
ChatGPT is not the only chatbot of its kind out there.
According to the AP, a technology similar to ChatGPT is now included with its Bing search engine, as well as its internet browser, Edge.
Google, meanwhile, has unveiled a conversational service called Bard. The service is initially made available to a group of 'trusted testers,' and is planned to be widely released later on in 2023.
Are there concerns with ChatGPT, or chatbots in general?
According to the AP, Educators have expressed concerns over ChatGPT's impact on student learning, as well as concerns over the safety and accuracy of content.
Some school authorities, like New York City's education department, have taken steps to restrict access to ChatGPT on school networks and devices. Meanwhile, technologies that can determine whether a piece of writing was created with AI technology have been launched, according to the National Education Association.
The AP has also reported on an issue affecting Bing's chatbot. That chatbot became the target of complaints after people reported being disparaged by it.
"In one long-running conversation with The Associated Press, the new chatbot complained of past news coverage of its mistakes, adamantly denied those errors and threatened to expose the reporter for spreading alleged falsehoods about Bing's abilities. It grew increasingly hostile when asked to explain itself, eventually comparing the reporter to dictators Hitler, Pol Pot and Stalin and claiming to have evidence tying the reporter to a 1990s murder," read a portion of the article, which was published in February 2023.
Some tech industry leaders have also expressed concerns over AI technologies in general. In March 2023, the AP reported that a group of prominent computer scientists and notable people in the tech industry including Elon Musk and Apple co-founder Steve Wozniak, called for a six-month pause on development of AI technology in order to consider the technology's risks.
"We call on all AI labs to immediately pause for at least 6 months the training of AI systems more powerful than GPT-4," the letter read, in part. "This pause should be public and verifiable, and include all key actors. If such a pause cannot be enacted quickly, governments should step in and institute a moratorium."
One of the people who signed the letter told the AP that he is more concerned about "mediocre AI" that is widely deployed, including by criminals or terrorists to trick people or spread dangerous misinformation.
"Current technology already poses enormous risks that we are ill-prepared for," New York University professor emeritus Gary Marcus wrote. "With future technology, things could well get worse."
Read More: Are ASU students using AI to help with school work? Most say no. Here's why
Are there people who embrace the use of chatbots?
In March, we reported on another use for ChatGPT, where an Arizona author utilized the chatbot to write two children's book.
Read More: Arizona author harnesses AI power to write books
Meanwhile, the AP reported in February 2023 on a teacher in Kentucky who is incorporating ChatGPT into class instructions.
"This is the future," said Donnie Piercey, in the AP article. "As educators, we haven't figured out the best way to use artificial intelligence yet. But it's coming, whether we want it to or not."
The article described an exercise in Piercey's class where students try to outwit ChatGPT in a writing game, where each student summarized a text about Muhammad Ali, and then try to figure out which was written by the chatbot.
Piercey is not the only educator to incorporate ChatGPT into class lessons. According to the NEA, an English teacher in California has utilized ChatGPT to create a new lesson for a unit about the Salem Witch Trials, with the chatbot creating variations of a multiple-choice quiz, as well as an article for students.
At a university level, Professor Subbarao Kambghampati, who heads Arizona State University's Computer and AI Program, said some professors are actually embracing AI and its kinks.
"Some professors are actually using this to say, OK, you can ask ChatGPT for the answer to this factual question, but then you need to correct it," Kambhampati said.
What does the future hold for ChatGPT?
According to the AP, OpenAI rolled out a new artificial intelligence model called GPT-4 in March 2023.
GPT-4, according to the article, is described by OpenAI officials as being much more reliable, creative, and can handle 'more nuanced instructions' than its predecessor system.
According to the article, GPT-4 can also be fed images, which the bot will then use to come up with answers.
However, OpenAI officials cautioned that GPT-4 is still not fully reliable because it "hallucinates" facts and make reasoning errors.
The Associated Press (AP) contributed to this report.
While results from ChatGPT tests we ran were summarized in this report, text responses generated by ChatGPT were not used in any part of this article.