Democrats accuse Texas of voter suppression in schools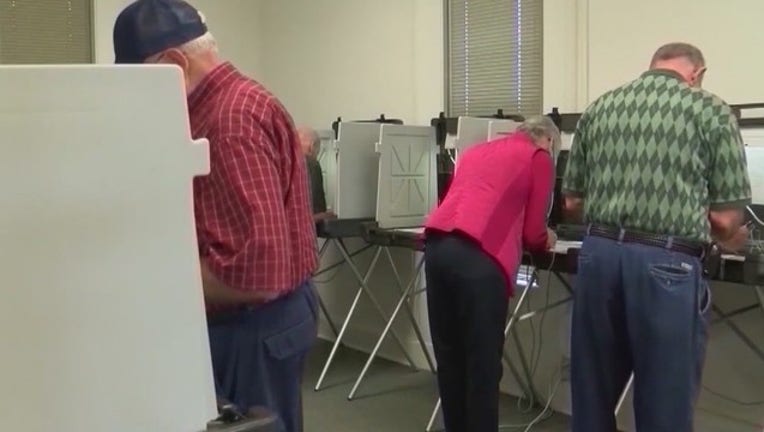 article
AUSTIN, Texas (AP) - Democrats are alleging new attempts at voter suppression in Texas, where the GOP-controlled Legislature's electoral maps and a strict voter ID law already have been previously struck down in federal court and the nation's first primary of the year is less than two weeks away.
At issue this time: unusual accusations by top Republicans that schools districts and educational groups are trying to unfairly sway elections. Those accused counter that they're simply encouraging teachers and students to vote.
Last week, Republican Texas Attorney General Ken Paxton issued cease-and-desist letters to three school districts, accusing them of "unlawful electioneering" by using state funding to disseminate candidate endorsements in the March 6 primary.
Paxton pointed to examples where the Brazosport, Holliday and Lewisville districts used their public Twitter accounts to tweet or retweet messages backing candidates. He also highlighted more general messages encouraging public education employees to "come together and vote."
"These school districts must understand that they are responsible, as all state agencies are, for refraining from spending public funds on advocating for or opposing political candidates," Paxton, who has been indicted on felony securities fraud charges stemming from allegations before he took office, wrote Feb. 14. Texas has 1,000-plus school districts and Paxton said his office "continues to investigate complaints."
All three districts responded that they had removed possibly inappropriate tweets, but Lewisville, in suburban Dallas, refused to take down a video urging employees to use their "teacher voice" to help elect candidates who support public education.
"Uniting behind the common cause of public education is not a violation of any law," Jeff Crownover, the Lewisville school district's general counsel, wrote to Paxton.
Manny Garcia, the Texas Democratic Party's deputy executive director, said the letter's timing is no coincidence. Early voting began Tuesday and Democrats have so far seen participation surge compared with the last midterm primary elections in 2014.
"This is their track record," Garcia said of Texas Republicans, who haven't lost a statewide election since 1994.
Teachers unions and education groups usually support Democrats. Some this cycle also have backed a Republican primary challenger to Lt. Gov. Dan Patrick who wants to increase public education spending while opposing voucher programs that Patrick supports seeking to allow students to attend private schools with taxpayer funding.
The warning to school districts comes after federal courts have found that Texas' voter ID law and electoral maps for congressional and legislative voting districts effectively suppressed voter turnout by discriminating against poor people and minorities.
Garcia said it would be up to school districts, not his party, to challenge Paxton's actions in court - but that doing so would not mitigate the repercussions the letters already had.
"The danger here is there's a chilling effect among school officials and educators to educate," he said.
Republicans began questioning political efforts by school districts and educational groups before primary season, including singling out the efforts of an organization called Texas Educators Vote. The group has asked school districts to stress the importance of voting to students in a variety of ways and even to use buses to provide transportation to the polls, prompting state Sen. Paul Bettencourt, a Houston Republican, to complain to Paxton in December.
That caused Paxton to issue a non-binding opinion last month saying school districts aren't allowed to provide polling-place transportation without an "educational purpose."
Bettencourt on Friday praised Paxton's moves and rejected accusations of trying to discourage voter turnout, "All that's being suppressed is political behavior, not somebody's right to vote."
"As a taxpayer, I'm not paying the schools to get into politics," he said. "I'm paying the schools to teach kids."
Texas Educators Vote founder Laura Yeager described her organization as a "PR project, a get-out-the-vote project" that she says seeks to increase voter registration and turnout without endorsing candidates.
"I think the people that are pushing back are used to people not voting," Yeager said.
Her group's website lists hundreds of school districts affiliated with Texas Educators Vote, but Yeager said conservative activists have flooded some with requests under Texas open records laws, seeking more information about possible efforts to influence elections.
"It's horrifying that this has been turned into some sinister rebellion," Yeager said "rather than what is expected in a democracy."
___
Sign up for the AP's weekly newsletter showcasing our best reporting from the Midwest and Texas: http://apne.ws/2u1RMfv