Document: Homecoming parade crash suspect wasn't intoxicated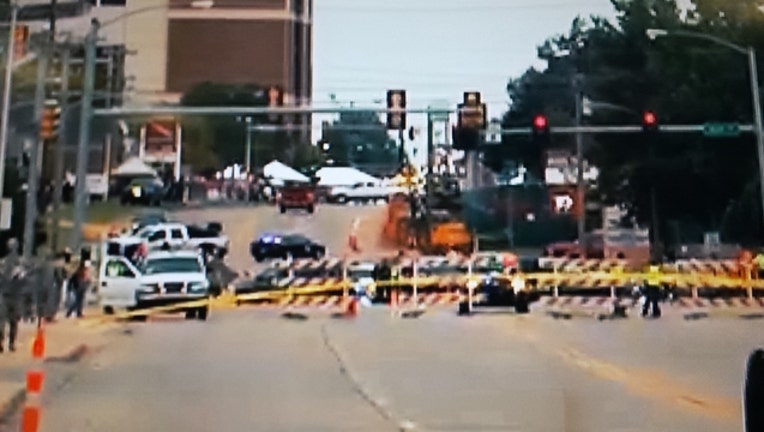 article
STILLWATER, Okla. (AP) — A court document indicates the woman accused of killing four people and injuring dozens of others after driving through Oklahoma State University's homecoming parade last month had a blood-alcohol content lower than the legal intoxication threshold.
The Tulsa World reported Saturday (http://bit.ly/1lAVc36 ) that 25-year-old Adacia Chambers was ordered to submit to a blood alcohol test at Stillwater Medical Center following the Oct. 24 crash.
A document filed Thursday in Payne County District Court by defense attorney Tony Coleman indicates her blood-alcohol content was 0.01. The legal threshold for intoxication is 0.08.
Chambers initially was suspected of driving while under the influence after authorities say she ran a red light and purposely drove around a barricade and over a police motorcycle before crashing into spectators at OSU's homecoming parade. Prosecutors say evidence suggests it was "an intentional act."
Prosecutors have not responded to the latest filing.
Chambers faces four counts of second-degree murder and 46 counts of assault and battery with means likely to produce death.
Killed in the crash were 65-year-old married couple Marvin and Bonnie Stone; 23-year-old University of Central Oklahoma graduate student Nikita Nakal; and 2-year-old Nash Lucas. Chambers is set to reappear in court for a hearing Dec. 10.
Information about Chambers' blood alcohol content is contained in a brief supporting Coleman's request for the court to allocate funds so Chambers can afford an expert witness in psychology and accident reconstruction.
Coleman said his client is considered indigent based on her income and has a "due process right" to confront the evidence and witnesses against her. He said an expert is required to explain the difference between Chambers' state of mind currently and her state of mind at the time of the crash.
An order for competency evaluation states a Payne County Sheriff's Office employee transported Chambers from the county jail to the Oklahoma Forensic Center in Vinita on Tuesday.
Coleman said the results of Chambers' evaluation in Vinita differ from those documented after an evaluation conducted by Edmond-based psychologist Dr. Shawn Roberson at the Payne County Jail on Oct. 26.
Roberson wrote in his evaluation, which was retroactively sealed by Judge Louis A. Duel on Nov. 9, that Chambers seemed to be "acutely psychotic" and appeared to suffer from "severe mental illness" that would affect her ability to stand trial.
___
Information from: Tulsa World, http://www.tulsaworld.com