Fatal mad cow-like disease in Texas whitetail deer doubles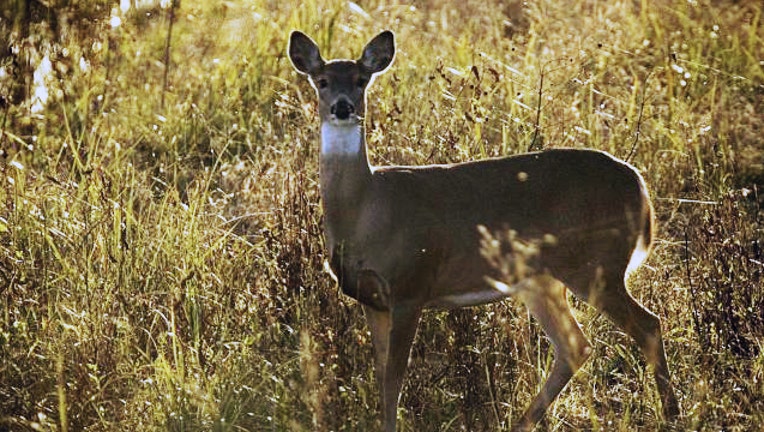 article
SAN ANTONIO (AP) — The number of known Texas whitetail deer diagnosed with a fatal syndrome similar to mad cow disease has doubled after the discovery of more than a dozen infected animals near San Antonio, state officials said.
The Texas Parks and Wildlife Department now counts 25 whitetail deer with chronic wasting disease. The tally sharply climbed with the discovery of 13 infected deer at a captive breeding facility in Medina County, though state officials did not disclose the facility's name.
The disease had previously only been found in isolated mule deer herds in West Texas before an infected whitetail deer was discovered last summer. Infected animals may carry the disease unnoticed for years.
A fatal form of spongiform encephalopathy similar to mad cow disease, chronic wasting disease can be transmitted through blood, saliva, urine and feces.
The San Antonio Express-News reports (http://bit.ly/2984c9y ) reports that state officials say the disease poses no apparent risk to humans or other animals.
"However, as a precaution, the U.S. Centers for Disease Control and the World Health Organization recommend not to consume meat from infected animals," state wildlife officials said in a statement Friday.
The new batch of whitetail cases was confirmed during stepped-up screening for the disease, state officials said, and was part of an epidemiological investigation begun after a doe there tested positive.
The disease was first recognized in 1967 in captive mule deer in Colorado. Chronic wasting disease has since been documented in captive and free-range deer in 24 states and two Canadian provinces.
___
Information from: San Antonio Express-News, http://www.mysanantonio.com