Groomer accused of breaking service dog's tail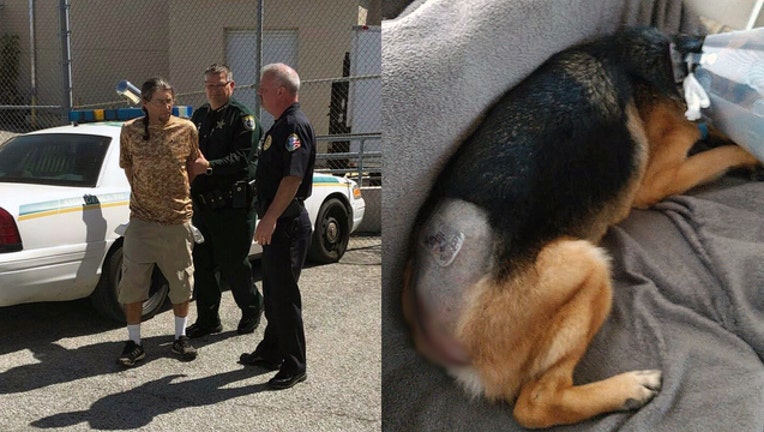 article
LAKE MARY, Fla. (FOX 35 Orlando) - Authorities in Brevard County have accused a man of injuring a service dog, stemming from an incident earlier this month.
James Cordell Doughty Suthann, 37, was arrested on a felony animal cruelty charge, after investigators said he became angry when an 8-year-old German Shepard would not sit still while being groomed. The incident happened on Feb. 6 at a grooming salon, where Suthann was working as a contract employee.  The entire incident is captured on video, according to the Sheriff's Office.
"At one point, you see Suthann cinch the pet's head down so tight that the dog could no longer move and was obviously in pain. Further in the video, Suthann grabs the dogs tail and completely lifts him off the ground causing the pet's tail to be twisted a full 360 degrees and to be broken to the extent it could not be reattached," explained Brevard County Sheriff Wayne Ivey in post on the agency's Facebook page. "To make matters worse, at the end of the incident, Suthann had the audacity to strike the dog in the back of the head with the nozzle from the hose he was using to bathe him."
The sheriff noted that the video was so graphic, he chose not to release it to the public on Facebook.
"Trust me when I tell you that it is one of the most difficult things I have ever had to watch in my 39 years of law enforcement, because of the horrific and cruel way the pet was treated," Ivey added.
According to the sheriff, the animal is a service dog that belongs to a disabled veteran who has post-traumatic stress disorder.  The dog, named "TT," had to have emergency surgery to amputate her tail and is in the process of recovering, according to the Sheriff's Office.
"Please know that the owners of the grooming facility where this incident occurred had no knowledge that Suthann was capable of this type of activity, and upon learning of the incident, took immediate and appropriate action to have him no longer at their facility," Ivey wrote. 
Suthann was taken into custody on Monday by an investigator with the Sheriff's Office Animal Cruelty Unit, as part of a joint investigation with members of the Satellite Beach Police Department.  He was booked into the Brevard County Jail on a $2,000 bond.
FOX 35 reported on this story from Lake Mary, Florida.