Holy haute couture: Divine designs grace carpet at Met Gala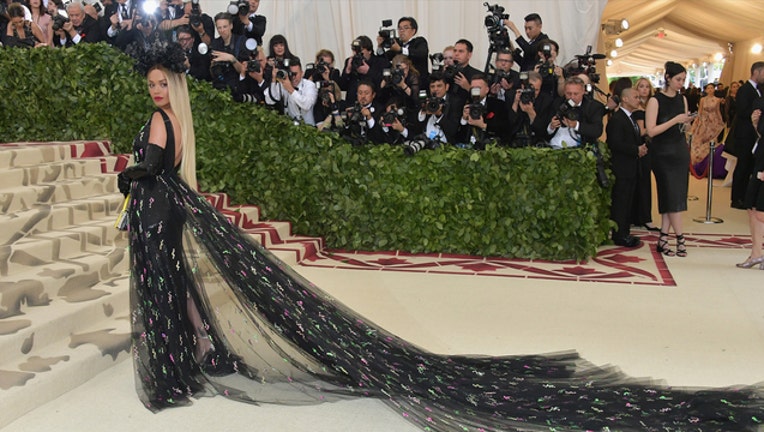 article
NEW YORK (AP) — Divine designs floated up the red carpet at Monday's religion-themed Met Gala in red and fuchsia, crowns and crosses and even a pair of wings.
Katy Perry rose to the occasion of night's theme challenge with larger-than-life feathered angel wings, metallic boots and dress by Versace. After wowing on the red carpet, the pop star was forced to turn sideways to squeeze the six-foot stunners through the gala entryway.
If anyone can make a mitre modern, it's Rihanna. The Grammy-winning artist arrived dripping in pearls and crystals in a Maison Margiela minidress and ornate robe designed by John Galliano. The "Diamonds" hitmaker, one of the evening's co-chairs, is never one to shy away from a grand entrance. At last year's gala, she stunned in a dress covered in fluttery petal-like pieces by Japanese designer Rei Kawakubo.
The annual fundraising fete in New York brings out Hollywood's elite for an evening of fashion and charity and to celebrate this year's exhibit at the Metropolitan Museum of Art's Costume Institute — "Heavenly Bodies: Fashion and the Catholic Imagination."
Stars tackled the dress code in elaborate headpieces, a sea of shimmering gold and, of course, crosses. Uma Thurman accessorized an off-the-shoulder, peal-encrusted Gabriela Hearst dress with a necklace of bright jeweled ones. Jennifer Lopez, who picked a colorful Balmain number with a feathered train and sky-high slit, had a cross bejeweled across her chest. While "Black Panther" star Chadwick Boseman donned an ivory cape featuring the religious symbol in gold beadwork. And Kim Kardashian West — walking the carpet sans her husband, Kanye West, who is under fire for recent tweets supporting the president and declaring slavery is "a choice" — wore hers on a shimmering gold Versace dress.
Bella Hadid held court as a gothic priestess as her gold-embroidered headpiece fanned out over a simple black corset and skirt. The dramatic look was topped off with a structured, embossed leather jacket, emblazoned with a gold cross.
Always on point Sarah Jessica Parker chose her gown and headdress from a series of drawings by Dolce & Gabbana. The intricate headpiece was a Neapolitan nativity altar made to scale by the Italian design house.
Kate Bosworth's pearl-encrusted veil draped over a shimmering tulle gown by Oscar de la Renta, while Mindy Kaling donned a regal, blue-jeweled crown with a feminine silver gown and navy gloves. Kaling stars in the upcoming "Ocean's 8," a jewelry heist romp set at the Met Gala.
Ariana Grande arrived with designer Vera Wang, who created the singer's romantic look: a strapless confection of soft layers patterned with Michelangelo's Last Judgment, atop blush tulle.
This year's co-chairs also include Vogue's Anna Wintour, Amal Clooney and Donatella Versace.
Clooney arrived early in a striking silver corseted top, matched with navy slacks and a cascading metallic, rose-patterned skirt. The ensemble, from designer Richard Quinn, made a crinkling sound as she made her way up the Met's iconic steps.
Though the recent Vogue cover girl arrived with movie star husband George Clooney, the Academy Award winner knew his place. "I'm the flower on the side," he joked to reporters.
Wintour arrived in a beaded off-white Chanel gown and a cross necklace alongside her daughter, Bee Shaffer and addressed rumors she may soon step down as Vogue's editor-in-chief.
"I hope not," Wintour simply said before heading into the soiree.
Other hints of the night's theme shown through on Olivia Munn's gold mesh headdress and Lynda Carter's updo, which featured a sparkling Star of David. Munn wore a custom H&M gown inspired by the Crusades.
Rita Ora's massive train trailed behind as photographers frantically snapped pictures of her elaborate, spiked headdress paired with a black Prada gown in layers a cheer fabric and sequin gloves.
The gala is a fundraising benefit for the Metropolitan Museum of Art in New York City, which each year welcomes celebrities from film, TV, fashion, sports and music.
___
AP Entertainment Writer Brooke Lefferts contributed to this report.