Latest: Driver in deadly Texas bus crash not yet interviewed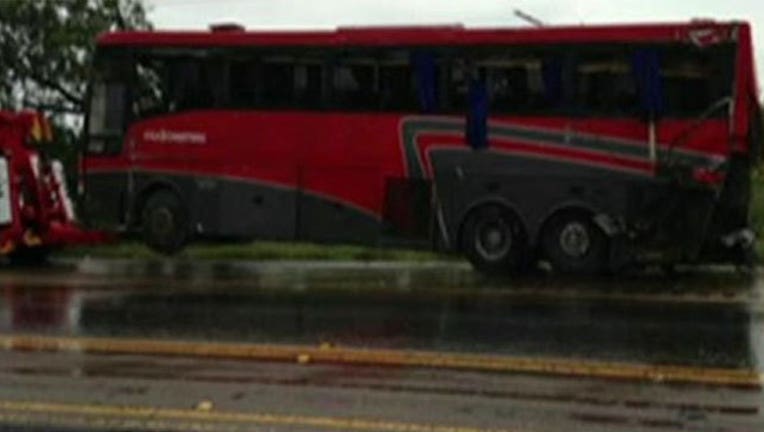 article
LAREDO, Texas (AP) — The latest on a deadly charter bus crash north of Laredo, Texas (all times local):
6 p.m.
A Texas state trooper says the driver of a charter bus involved in a deadly rollover crash remains hospitalized with major injuries and has not been interviewed by police.
Sgt. Johnny Hernandez did not release the name of the driver and said Sunday that investigators are still searching for a cause of the crash.
Hernandez said the Department of Public Safety is conducting an investigation separate from the National Transportation Safety Board.
The OGA Charters bus crashed Saturday north of Laredo, Texas, killing eight and injuring 44 others. Officials say the deceased ranged in age from 52 to 61.
___
5:45 p.m.
The medical examiner in Webb County in South Texas has released the names of the eight people killed in a rollover charter bus crash.
The victims were identified as Altagracia Torres, Maria de Jesus Musquiz, Dora Nelly Gonzalez, Frances Guerrero, Marisela Lopez, Adelfa Garza, Jaime Navarro, and Emma Rodriguez Zamudio.
Medical Examiner Corrine Stern did not immediately release ages or hometowns. The Laredo Morning Times reported the victims who died ranged in age from 52 to 81.
National Transportation Safety Board investigators arrived in Laredo on Sunday to look into what caused the crash.
Forty-four people were injured, including the bus driver.
___
3:45 p.m.
The small Texas bus company involved a crash that killed eight people and injured 44 others had been ordered twice last year to take one of its buses off the road to fix brake and emergency exit problems.
National Transportation Safety Board investigators arrived Sunday in Laredo, Texas, to try to determine what caused the OGA Charters bus to roll over Saturday morning.
Federal records posted online show state regulators in Louisiana doing unannounced reviews in May and August 2015 issued "out of service" orders for one of the company's two buses.
It was not immediately known if that was the same charter bus involved in Saturday's crash.
___
1:35 a.m.
Federal authorities will begin investigating what caused a charter bus headed to a casino to crash in far South Texas, killing eight people and injuring 44 others in a one-vehicle rollover.
Texas Department of Public Safety Trooper Conrad Hein says seven people died at the scene Saturday on U.S. Highway 83 about 46 miles north of Laredo and another died later at a Laredo hospital. Hein says "the driver of the bus lost control and rolled over."
Hein says the driver was among the survivors. His name and the names of passengers were not immediately available.
Authorities say it was raining Saturday morning but it was uncertain if that was a factor in the crash.
National Transportation Safety Board investigators were expected to begin probing the wreck Sunday.