Lawsuit filed after crash between 18 wheeler and school bus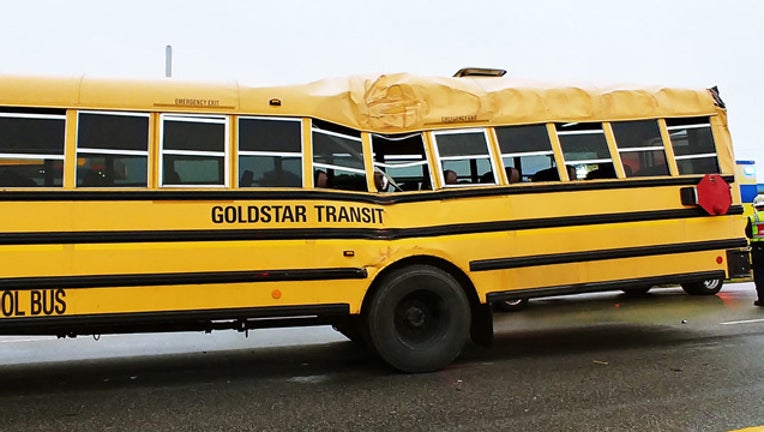 article
The family of a child who they say was injured after an 18-wheeler crashed into a school bus in Cedar Creek last week is suing World Trade Distribution, Inc.
Early Wednesday morning, students from four Bastrop ISD campuses were all on board a district bus when an 18-wheeler broadsided them as the bus was trying to turn onto State Highway 71. 
"The bus driver advised he had a green light. He waited before he turned and he was turning right onto State Highway 71," said Sgt. Robbie Barrera, Texas DPS.
The driver of the 18-wheeler claimed he had a yellow light but said he wasn't able to stop. According to the law firm representing the family, the truck driver for World Trade Distribution misled investigators about the crash, "claiming that he entered the intersection on a yellow light, when in fact his light had been red for eight seconds before he entered the intersection."
Twenty students plus the driver were all on the bus. Ten were from Cedar Creek High, five from Cedar Creek Middle, four with Cedar Creek Intermediate and one from Colorado River Collegiate Academy. Ten students plus the driver were treated at area hospitals. The truck driver was also transported
"The injuries were not fatalities or severe. They were transported to Dell Children's Hospital and also to Seton Northwest," said Barrera.
The law firm hopes the lawsuit will allow for a thorough investigation into what caused the crash. 
"Right now we don't know exactly what caused the crash—be it distracted driving, neglected maintenance, exceeding driver hour limits, or something else—but this lawsuit allows us to conduct a thorough investigation to get our client answers, and hopefully make sure this doesn't happen again," said attorney Kevin Glasheen with Glasheen, Valles & Inderman.