Students raise awareness with distracted driving PSA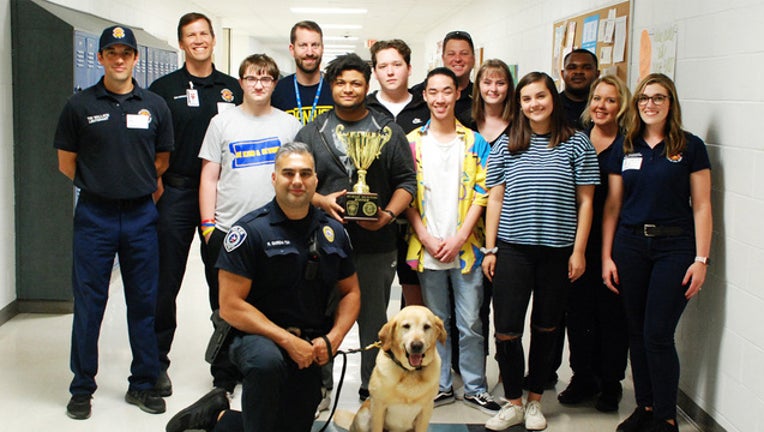 PFLUGERVILLE, Texas - A group of students from Pflugerville High School are raising awareness about the dangers of distracted driving with a PSA video. The video has received more than 2,900 views on YouTube so far.
The students, Lily Bitner, Mac Bain, Ava Carrasco, Jacob Claxton, Michael Hornsby and Alex Vo, were named the winners of the My Road My Future PSA contest. The students who made the winning video were presented with a trophy from Pflugerville ISD Police and Travis County Emergency Services District #2 during a recognition ceremony at PHS on Friday, May 17. 
The title of their video was "If You Can't Text and Walk, Why Text and Drive?" and featured students reading text messages on their phones while walking through the halls at school with sound effects from a car crash when they ran into each other and spilled their belongings on the floor.
WATCH THE DISTRACTED DRIVING PSA HERE
The contest was held in partnership between Pflugerville ISD and Travis County Emergency Services District #2. This year marks the second year of the partnership of My Road My Future and the first year of the video contest.
"My Road My Future has the potential to save lives well beyond prom and graduation season," PfISD Police Chief Patrick Petherbridge said. "We were impressed by the videos submitted by all the participants and are happy to announce Pflugerville High School as the winner of our first public service announcement contest for distracted driving awareness."
Video submissions were required to be no longer than one minute and focus on at least one type of distracted driving: visual, manual or cognitive. Common distraction sources include texting, grooming or applying make-up, eating, or reaching for something inside the vehicle such as a personal item, phone, or the control panel.
In addition to the trophy from police and fire, the winning team's video will receive special publicity on the school district and fire department's websites and social media channels.