UT students 'excited' about new head basketball coach Shaka Smart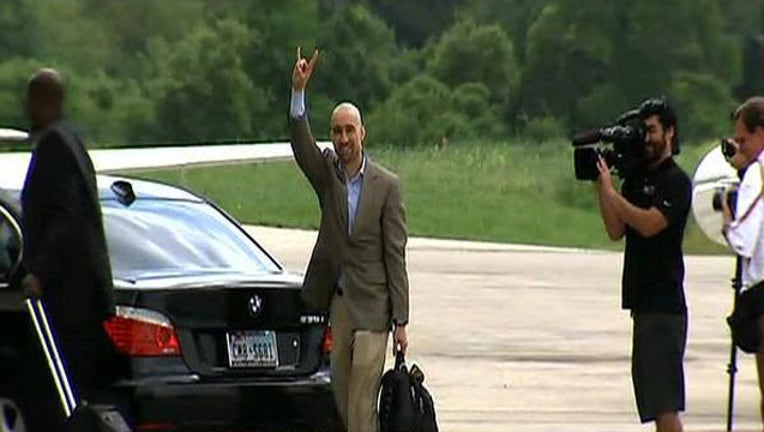 article
AUSTIN, Texas - The University of Texas Athletic Director Steve Patterson officially announced Shaka Smart will take over as head basketball coach.
37-year-old Smart comes to the Longhorns from Virginia Commonwealth University where he led his team to the NCAA Tournament the last five consecutive years. That makes VCU one of only 11 schools in the country to do that and that's why students at UT have some pretty high expectations for their new basketball coach.
"Have you ever heard of Virginia Commonwealth University before? No. Okay, well he made them a contender in the Final Four, so what can he do with Texas?" said UT student Jeffrey Gingelo.
What the new UT basketball coach can do in Texas is still anybody's guess, but a lot of students said they will be watching his every move to find out.
"Really excited. I've seen what he's done with VCU and it's a really exciting offense to watch and I'm looking forward to seeing him do his thing," said UT senior Noah Mcilhon.
"Pretty excited about it. Couple of Final Four appearances, maybe a national championship," said Gingelo.
"I felt like he's a pretty good coach over at VCU, so I'm guessing he's going to be a good coach here too," said UT student Saurabh Chauhan.
Smart will join Longhorn football coach Charlie Strong at the university. Both coaches were hired to bring new hope to the athletic department. Students said so far Strong has lived up to his reputation.
"I think it's going to be much like what Coach Strong did for football and it also makes for a heck of a campaign, Smart and Strong," said Chauhan.
That new UT catchphrase isn't the only smart decision the university made. Students said it was time to replace former UT basketball coach Rick Barnes.
"I think we're just stagnating as a team and it just showed last season. How we'd started losing a bit of gain and we'd go on these really big losing streaks and that's not how a well-funded and usually top 20 program should go," said Chauhan.
Fans will have to wait until November for the first official Longhorns' basketball game.