Rice's 24 points help No. 6 Texas top Oklahoma in OT
AUSTIN, Texas - Sir'Jabari Rice scored 20 of his game-high 24 points in the second half and overtime, and No. 6 Texas held off Oklahoma 85-53 on Saturday.
Rice's fourth 3-pointer of the game gave Texas an 84-77 lead with 2:26 left in overtime.
Oklahoma, however, had a chance to tie or win when Texas' Tyrese Hunter missed one of two free throws with 6.8 seconds left. But Sam Godwin missed a shot from near the rim, and Texas extended its winning streak against Oklahoma to five games.
Marcus Carr added 17 points for Texas (21-6, 10-4 Big 12), and Timmy Allen had 15 points, nine rebounds and four assists.
Grant Sherfield led Oklahoma (13-14, 3-11) with 18 points, including a 3-pointer that sent the game to overtime. Milos Uzan scored 15 for the Sooners.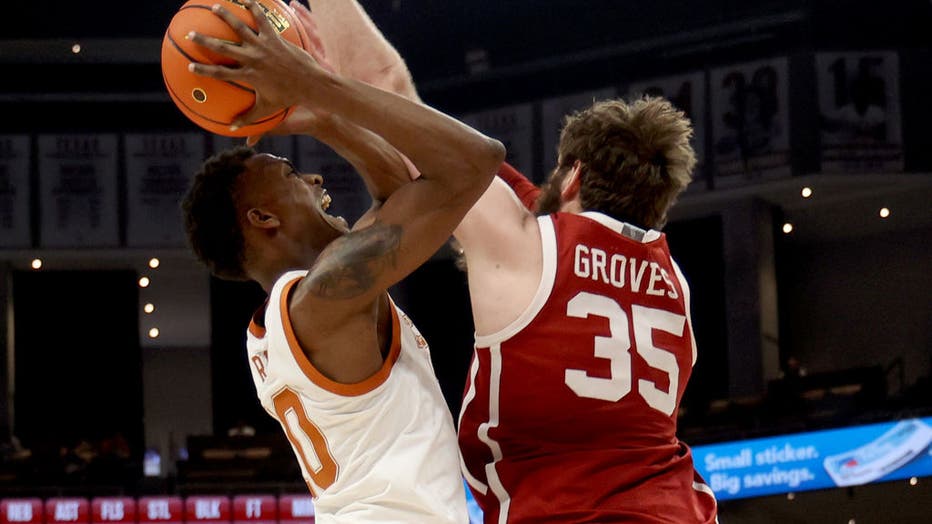 AUSTIN, TEXAS - FEBRUARY 18: Sir'Jabari Rice #10 of the Texas Longhorns shoots the ball against Tanner Groves #35 of the Oklahoma Sooners in the second half of the game at Moody Center on February 18, 2023 in Austin, Texas. (Photo by Chris Covatta/Ge
READ MORE
The Longhorns led by five with 1:30 remaining in regulation, but the Sooners secured two offensive rebounds and Sherfield's tough 3 came with 7 seconds left. Carr missed a jump shot, a chance to win, at the buzzer in regulation.
Oklahoma led 67-61 with six minutes remaining, but Texas took a 70-67 lead a minute later with consecutive 3-point baskets by Rice.
The game was tied at half at 34 largely due to numerous defensive lapses by Texas. The Sooners created a 24-12 edge in points in the paint and had an 8-2 advantage in fast-break points. Sometimes Texas failed to retreat quickly enough in transition., and other times the Longhorns allowed unimpeded drives to the basket.
Fortunately for Texas, it had reserve Brock Cunningham at the other end. He scored 10 in the first half — double his average per game — including eight of Texas' points in a row. Known as an energy guy for his hustle and physical play, Cunningham has developed into a dangerous 3-point shooter and made two in a row in the first half.
BIG PICTURE
Oklahoma: It's been a rough season in the tough Big 12, which occupied five of the first 12 seeds in the NCAA Tournament selection committee's bracket preview Saturday. The Sooners are in last place but have a few big moments: snapping a seven-game conference losing streak on Wednesday by beating No. 12 Kansas State in Norman and defeating (now) No. 1 Alabama 93-69 on Jan. 28.
Texas: One issue for the Longhorns is a lack of size; only two players are taller than 6-foot-7. Interior post players Dylan Disu (6-9) and Christian Bishop (6-7) missed chunks of the game. Both were in foul trouble early, then Disu left the game twice with injuries, but returned. Bishop and Oklahoma's Tanner Groves were called for flagrant-1 fouls with 16:40 remaining — their third fouls of the game — and Bishop picked up his fourth foul with 6:20 left.
UP NEXT
Oklahoma: Hosts Texas Tech on Tuesday.
Texas: Hosts No. 19 Iowa State on Tuesday.