Man points gun at 2 victims in downtown Austin; police investigating
AUSTIN, Texas - The Austin Police Department (APD) is asking for help identifying a suspect connected to an aggravated assault with a deadly weapon in Downtown Austin.
Police said on Sept. 4, around 9:12 p.m., officers received a call about an aggravated assault in the 300 block of Brazos Street.
The suspect was seen on San Jacinto Boulevard minutes before trying to get the attention of two people on Brazos Street. The victims told police he pointed a handgun at them as they walked past an alley on Brazos Street. 
The victims ran away from the suspect, who left the area through the alley.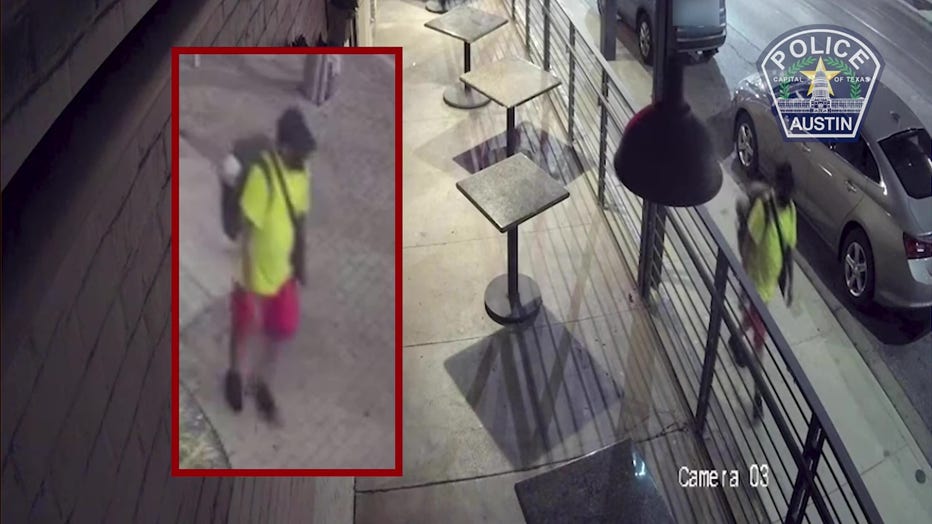 APD is asking for help identifying an aggravated assault suspect.
The suspect is described as a white or Hispanic man, around 30–40 years old, armed with a handgun. He was last seen wearing a bright lime green T-shirt, red shorts, black ball cap, black facemask, black shoes, and a gray/black backpack.
Anyone with any information may submit a tip anonymously through the Capital Area Crime Stoppers Program by visiting austincrimestoppers.org or calling 512-472-8477. A reward of up to $1,000 may be available for any information that leads to an arrest.