Amanda Knox murder conviction overturned by Italy high court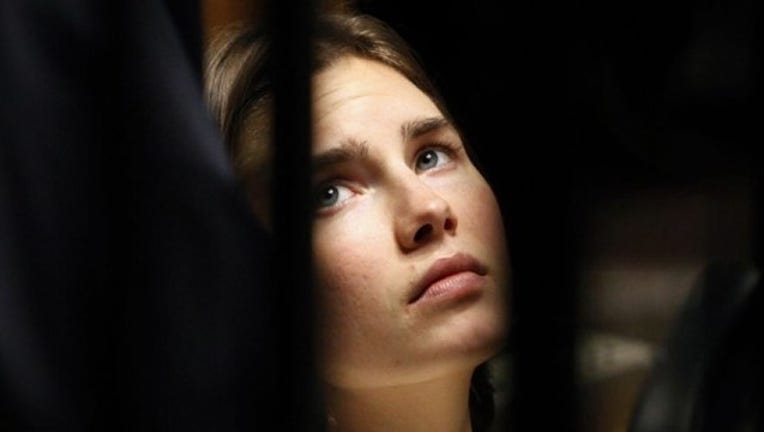 ROME, Italy - Italy's highest court overturned the murder conviction against Amanda Knox and her ex-boyfriend Friday over the 2007 slaying of Knox's roommate, bringing to a definitive end the high-profile case that captivated trial-watchers on both sides of the Atlantic.
"Finished!" Knox's lawyer Carlo Dalla Vedova exulted after the decision was read out late Friday. "It couldn't be better than this."
In a rare decision, the supreme Court of Cassation overturned last year's convictions by a Florence appeals court and declined to order another trial. The judges declared that the two did not commit the crime, a stronger exoneration than merely finding that there wasn't enough evidence to convict.
In a statement issued from her home in Seattle, Knox said she was "relieved and grateful" for the decision.
"The knowledge of my innocence has given me strength in the darkest times of this ordeal," she said, thanking her supporters for believing in her.
Experts have said such a complete exoneration is unusual for the high court, which could have upheld the conviction or ordered a new trial as it did in 2011 when the case first came up to its review on appeal.
The justices' reasoning will be released within 90 days.
The decision ends the long legal battle waged by Knox and Italian co-defendant Raffaele Sollecito to clear their names in the death of British student Meredith Kercher, after they spent nearly four years in prison immediately after the murder.
The Kercher family attorney, Francesco Maresca, was clearly disappointed by the ruling.
"I think that it's a defeat for the Italian justice system," he said.
Across the Atlantic, a spontaneous shout of joy erupted from inside the Seattle home of Knox's mother as the verdict was announced. Several relatives and supporters filtered into the back yard, where they hugged and cheered.
Dalla Vedova said he called Knox to tell her the news, but said she couldn't speak through her tears.
"She was crying because she was so happy," he said.
The case aroused strong interest in three countries for its explosive mix of young love, murder and flip-flop decisions by Italian courts.
Kercher, 21, was found dead Nov. 2, 2007, in the apartment that she shared with Knox and two other students. Her throat was slashed and she had been sexually assaulted.
Knox and Sollecito were arrested a few days later. Eventually another man, Rudy Guede from Ivory Coast, was arrested, tried and convicted of the murder in a separate trial and is serving a 16-year sentence.
The couple maintained their innocence, insisting that they had spent the evening together at Sollecito's place watching a movie, smoking marijuana and making love.
Knox and Sollecito were initially convicted by a Perugia court in 2009, then acquitted and freed in 2011, and then convicted again in 2014 in Florence after the Cassation court overturned the acquittals and ordered a new appeals trial.
That Florence appeals conviction was overturned Friday.
Knox had been convicted of slander for having falsely accused a Congolese man of the murder. That conviction was upheld by the high court Friday, but Knox has already served the three-year sentence in prison.
Sollecito's lawyer, Luca Maori, called the young man with the good news from the steps of the courthouse.
"You have your whole life ahead of you now, Raf" he told Sollecito.
Speaking to reporters, he added: "He almost couldn't speak. Eight years of nightmare over."