APD identifies man killed in officer-involved shooting off Loop 360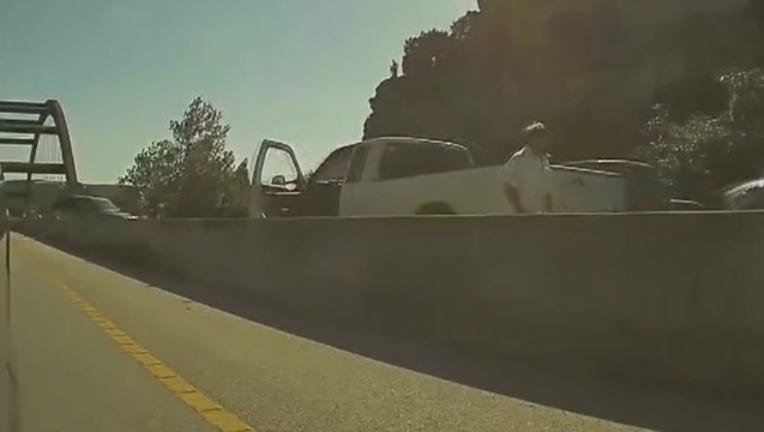 AUSTIN, Texas (FOX 7 Austin) - The Austin police department has released the name of the man killed in an officer-involved shooting in April as well as the officers involved.
Carlos Manuel Dodero, 45, died from his injuries at a local area hospital April 28 after the shooting. The incident stemmed from a possible domestic dispute with his wife on Loop 360 which led to a crash and Dodero running into the woods off Pennybacker Bridge where officers found him.
Officers Hugh Butler and William Bertelson were involved in the shooting and have been placed on paid administrative leave in accordance with standard protocol, says APD. Bertelson is assigned to Central West Patrol and Butler is a K-9 patrol officer.
During a press conference at the scene, APD Chief Brian Manley said that the initial call came in at 5:11 p.m. in the 5200 block of Loop 360 of a crash.
"We then started getting multiple calls from multiple witnesses," Manley said. "We got a call stating that there was a victim that had been hit by a vehicle, we got license plates of vehicles involved."
APD then began to get calls of a female that had been pushed and was being pinned on the ground.
Manley says at 5:13 p.m. a caller described a vehicle turning around, going northbound in the southbound lanes of Loop 360 and crashing into another vehicle. The caller also said the driver, later identified by police as Dodero, fled the scene. Multiple callers echoed this, along with descriptions of a female victim injured on the ground, says Manley.
"We also got a call at this point from a family member stating they had gotten a call from their relative that was at this location stating that she had been stabbed," Manley said.
The female victim was transported to the hospital where she was in serious, but not life-threatening condition as of April 28.
Dodero was believed to be in the woods near Loop 360 and the Pennybacker Bridge boat launch, according to witnesses and the Austin Fire Department. APD called in their air and K9 units to help locate the suspect.
According to Manley, APD received calls that the suspect had been texting his stepdaughter, letting her know that her mother was okay, but that he would be killed by police.
At 6:21 p.m. officers reported shots fired and were performing CPR by 6:35 p.m. The suspect was transported to a local area hospital where he died from his injuries.
Body camera footage from a patrol officer and a K9 officer, later identified as Butler and Bertelson, at the scene shows the officers coming to the wooded area and giving commands to a subject to drop the weapon and the subject responding multiple times that he had a gun and would shoot the officers. The officers then fired into the woods.
According to APD, this case will be administratively investigated by APD's Internal Affairs Unit and monitored by the Office of the Police Oversight and a concurrent investigation will be conducted by APD's Special Investigations Unit, in conjunction with the Travis County District Attorney's Office.
The investigation is still ongoing.