Austin ISD to hold outdoor, socially-distant graduation ceremonies
AUSTIN, Texas - Austin ISD says that it will be hosting outdoor graduation ceremonies for the class of 2021 next week.
The school district made preparations made so seniors will be able to receive their diplomas in person in a socially distant environment. 
"The parents and students can expect an awesome ceremony at three of our stadiums," said Sheila Henry, executive director of Austin ISD's Office of School Leadership.
In-person ceremonies will be held from Friday, May 28 to Thursday, June 3 at one of three district outdoor stadiums: Toney Burger Athletic Center, House Park, or Nelson Field. Students at Rosedale School will be celebrated during an on-campus ceremony on May 28.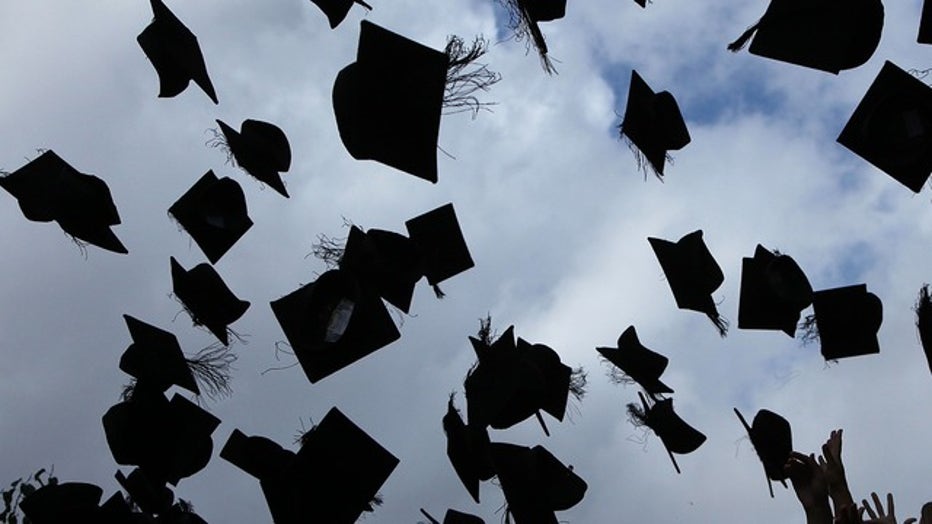 In-person graduation ceremonies will be held from May 28 to June 3 at one of three Austin ISD outdoor stadiums. (Christopher Furlong)
DOWNLOAD THE FOX 7 AUSTIN NEWS APP
The district says that students, families, and staff that attend in person will be expected to follow safety protocols that include wearing face coverings, temperature checks, and social distancing. Staff members will be on-site to provide direction.
Each graduate will be allowed eight guests from the same household to attend the ceremonies, which will include a combination of live and pre-recorded content. Graduates will walk in the traditional processional and be seated on the field six feet apart.
"We're inviting your families to come out, our graduates will be here and we're gonna be having an awesome time out here celebrating our senior class of 2021," said Henry.
SIGN UP FOR FOX 7 AUSTIN EMAIL ALERTS
While last year wasn't an ideal setup for graduating seniors, there is one thing Austin ISD is using from the virtual ceremony, as the ceremonies will be livestreamed on AISD.TV, cable channel 22, or Facebook Live. 
"Graduations are for our families so we want to give our families an opportunity since we've had so many challenges during this pandemic," said Henry. "This gives them an opportunity to come out and celebrate and why they haven't been able to since last March 2020."
AISD says it is planning for these events based on current public health guidance. If local or state ordinances change, the district will modify its plans accordingly and updates will be shared on the district website.
The district is reminding attendees that there is a Clear Bag Policy in place that details the type and size of bags that visitors are allowed to bring into the stadiums.
Austin ISD has more than 5000 graduating seniors.