Central Texas Food Bank distributes food to those in need during COVID-19 pandemic
AUSTIN, Texas - The Central Texas Food Bank held a special drive-through in the parking lot of LBJ High School to distribute food to help those who are facing increased food security during the coronavirus pandemic.
The once vibrant city of Austin, has been shuttered due to the virus, all to help flatten the curve. The job loss and economic impact is being felt by many residents. You can tell, by the number of cars that lined up Wednesday morning at LBJ High School. This was one of the Central Texas Food Bank's special distributions. 
"I think it's a great thing during this time because people need it," said Gregg Schroeder, an Austin resident.
Those who went to the event received an emergency food box containing about 28 pounds of food consisting of shelf-stable items such as peanut butter, brown rice, canned tuna or chicken, and canned fruit. The food bank said 1,562 cars were served.
"When I came up the line was wrapped around this whole entire block. There are quite a lot of people out here in need. We need things like this. It's greatly appreciated," said Roy, an Austin resident. Roy chose not to disclose his last name.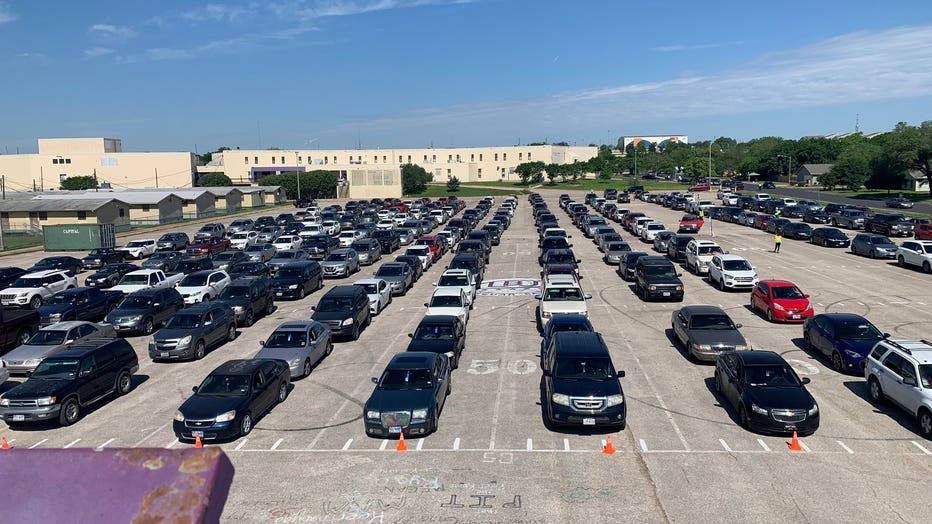 DOWNLOAD THE FOX 7 AUSTIN NEWS APP FOR YOUR MOBILE DEVICE
The box also contained a box of hygiene items such as baby wipes, shampoo, deodorant, toothpaste, and shaving items.
A limited amount of boxes were available so each household was limited to one food box and one hygiene box.
"Hold your head up, stay safe, and take care of your families," said Roy.
The Central Texas Food Bank's next large scale distribution will be on April 20, at Del Valle High School, from 9:00 am until 12 noon.  This will be drive-up only, in order to stay compliant with city social distancing rules. 
CLICK HERE FOR THE LATEST INFO ON THE CORONAVIRUS OUTBREAK
__
FOX 7 Austin is working to keep you up to date with coronavirus, with both local and national developments. Every weekday we're live at 12 p.m. with a special show reporting the latest news, prevention tips and treatment information.
You can watch live in your FOX 7 Austin app or on the FOX 7 Austin Facebook page.
You can also get the latest COVID-19 news from around the country at coronavirusnow.com.