Cold Halloween forecast in Texas increases safety risks
AUSTIN, Texas - It's going to be a cold Halloween because of the cold front that blew in over the weekend. It's a record breaker, according to FOX 7 Austin meteorologist Zack Shields.
"With a trio of clouds, rain, and wind. We're going to be struggling to get out of the forties Monday. So that would make it the coldest October 30 ever for Austin," said Shields.
The moon, Halloween night with Zack's forecast, may also have some cover.
"This is going to be the coolest Halloween we've seen in quite some time. With the clear skies. At least the rain will be gone. So we don't have to worry about any spooky showers or storms. Plus, the winds are going to die down, but we're going to keep it in the forties all evening long for your Halloween fun," said Shields.
That forecast has some parents rethinking their strategy for trick or treating.
"We are going to start early, and she is going to be a little fairy. He is going to be a little fireman. And just definitely check on the weather, keep them bundled up. Probably start around five. Go to seven and then get him in bed by eight," said a mom from Round Rock.
The best trick to beating a cold night hunting treats is hand warmers. Also, the best accessories would be anything reflective or maybe even some glow sticks.
"Remember be visible, whatever that looks like. So do that last minute check after everybody's all bundled up and see what that looks like. If I turn off the lights, can I see them," said Round Rock police officer Justin Griffith.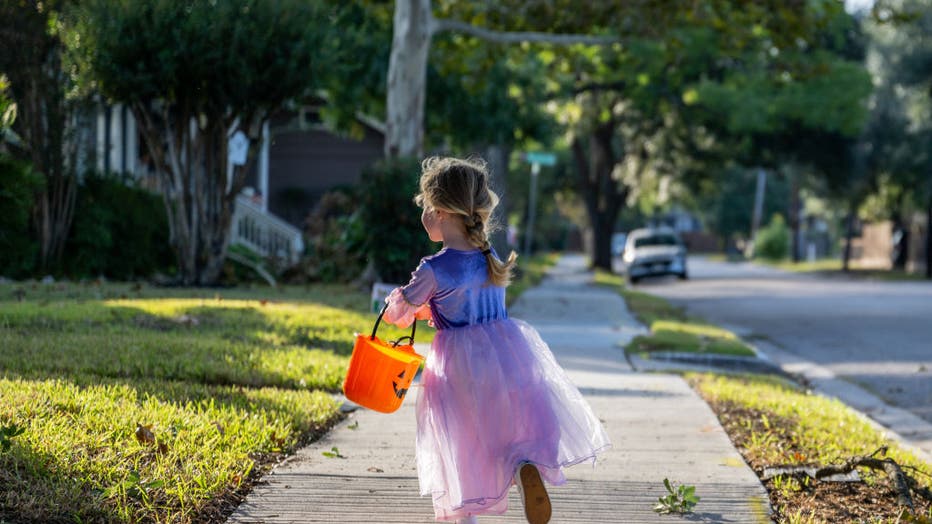 HOUSTON, TEXAS - OCTOBER 31: Georgia Richardson prepares to Trick-or-Treat on October 31, 2022 in Houston, Texas. Community members and families all over Houston came out to celebrate Halloween together. (Photo by Brandon Bell/Getty Images)
According to the CDC, pedestrian deaths increased fourfold among children on Halloween nights when compared with all other evenings.
"We'll stay around cul-de-sacs and off of the busier streets," said a mom who spoke to FOX 7 Austin.
Those who venture out farther may take personal vehicles. That will increase congestion.
"Traffic's probably still going to be a significant issue to be concerned with. We don't want to be walking the middle of the road. So, if you're a pedestrian, stay on sidewalks; if there are sidewalks. If there are no sidewalks, stay to the side of the road, some kind of shoulder walk toward it, the direction of traffic. So, you can see it coming. And make sure you avoid it," said Officer Griffith.
Halloween night emergency room trips average about 3,200 cases each year. The types of injuries, according to the Consumer Product Safety Commission, include:
55% pumpkin carving
25% falls while decorating and tripping
20% allergic reactions and other injuries
"Just have fun, but be safe doing it right. This is you're making memories for your family. You're making memories for your kids. But we want good memories," said Officer Griffith.
Fire safety is also another Halloween safety issue. Electrical shorts from power cords, and fires caused by candles are big problems this time of year.