Entenmann's brings back windows on packaging after customer complaints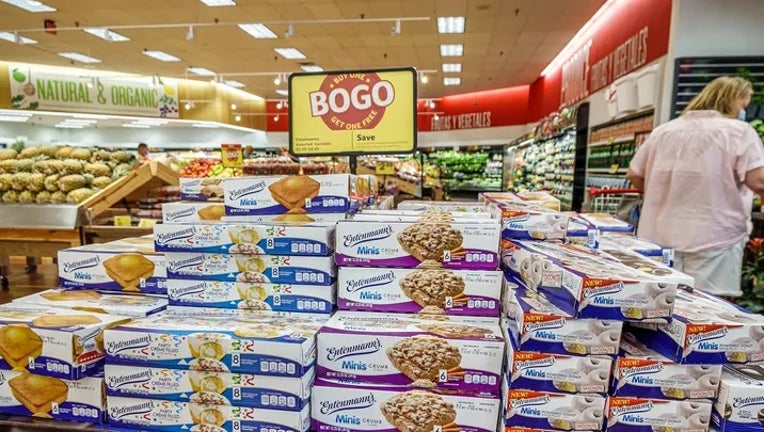 article
Making a change to the packaging of a product can be a big deal to customers.
Just ask Entenmann's.
The baked goods giant was forced to do away with the clear cellophane windows on its boxes of donuts, cookies and cakes for a time, and fans were not happy. 
Now, the little windows are back, and both the company and its customers are celebrating.
SNACKING FRENZY PUSHING CAMPBELL'S GOLDFISH TO $1B BRAND
Entenmann's announced in the fall of 2021 the company had to temporarily replace the plastic windows with a photo of contents because the Pennsylvania factory that produced the company's packaging was shut down due to severe flooding following a dam break caused by Hurricane Ida.
But not all customers got the memo, and some took to social media to complain about the change.
One appalled customer tweeted in all caps shortly after the new packaging hit stores, "THEY REMOVED THE YUM YUM WINDOW FROM ENTENMANN'S POUND CAKE!?!"
"You can't really tell by the photo but I feel personally attacked that Entenmann's took away the little window & replaced it with a printed picture," another Twitter user wrote in February 2022. "Not cool."
One devoted fan of Entenmann's donuts made it clear he was the opposite of thrilled with the packaging change and even provided updates waiting for the windows to return.
"Absurd they took away the plastic window for these," he tweeted in October 2021 along with a picture of a windowless donut box, tagging the company. Then, in November 2022, the same customer followed up, "Still no plastic window over a year later…@Entenmanns care to explain?"
HERSHEY JUMPS ON PLANT-BASED CRAZE WITH NEW REESE'S CUPS RECIPE
But the same customer was quick to give the company a shout-out in January when he finally found a box of donuts allowing him a clear view of the product.
"Want to thank @Entenmanns for staying true to their word and bringing back the window," he tweeted. "I always knew the Entenmann's empire would overcome the devastation of Hurricane Ida."
Entenmann's parent company, multinational firm Grupo Bimbo, confirmed to TODAY.com that the windows on packages are back.
"Entenmann's is thrilled to return to our iconic window boxes," Maureen Sticco, Bimbo Bakeries USA's vice president and general manager of sweet baked goods, told the outlet. "We made the change out of necessity in September 2021 — we experienced a material supply disruption caused by Hurricane Ida — and always planned to return to our original packaging.
"We are happy that time has arrived and love that our customers are excited as well."
LINK: Get updates and more on this story at foxbusiness.com.