Experts: Convicting ex-officer in teen's death will be tough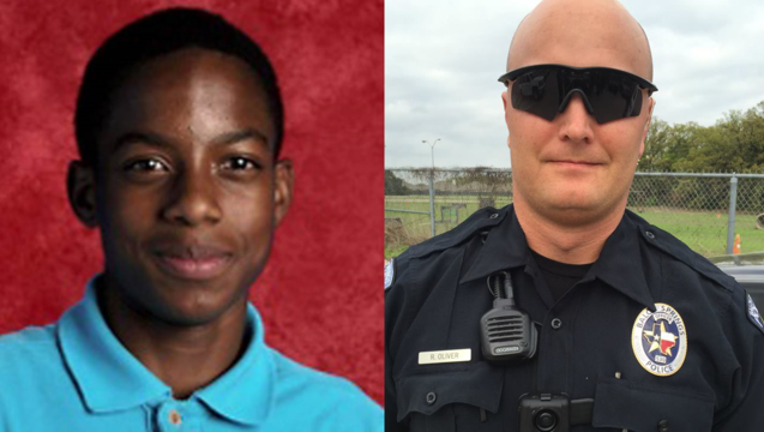 article
HOUSTON (AP) - Authorities who've charged a white suburban Dallas police officer with murder in a black teenager's death face a tough task in getting a conviction as few of these cases go to trial and, when they do, juries remain reluctant to second guess an officer's decision to use deadly force, legal experts said Saturday.
Roy Oliver is free on bond after being charged Friday in the death of 15-year-old Jordan Edwards. Investigators say Oliver shot into a car of teenagers leaving an unruly party on April 29, killing Edwards. Oliver was fired by the Balch Springs Police Department three days after the shooting.
Read Murder warrant issued for Balch Springs officer who killed teen
Philip Stinson, a criminal justice professor at Bowling Green State University in Ohio, said data he's collected since 2005 on police shootings shows officers rarely are charged in deadly shootings. It's even rarer for an officer to be convicted, according to the data.
From his research, Stinson estimates that fatal shootings by U.S. police officers who are on duty occur about 1,000 times a year. But since 2005, only 81 officers have been charged with murder or manslaughter resulting from an on-duty shooting, he said. Of these 81 cases, there have been 30 convictions, 31 cases with no conviction and 20 that are still pending.
In recent years, many police shootings have been captured on video taken by officers' body cameras or witnesses' cellphones. But Stinson said such evidence still doesn't guarantee a conviction.
Read Calls for Balch Springs officer to be arrested unlikely to be met, experts say
He points to the 2015 shooting in South Carolina of black motorist Walter Scott by officer Michael Slager. A cellphone video captured Slager shooting Scott five times in the back as the unarmed 50-year-old man ran away during a traffic stop. In December a mistrial was declared in Slager's murder trial after a jury couldn't reach a verdict. Slager pleaded guilty on Tuesday to a federal charge of violating Scott's civil rights.
"I'm not willing to say it's jury nullification where the jury is just not going to convict in any scenario," Stinson said. "But we are getting close to that, to the extent that even in what seem to be the strongest cases for a prosecutor, such as the Slager case, a jury is just very reluctant to convict the officer."
Attorneys for Oliver didn't immediately return calls or emails seeking comment on Saturday.
Read Balch Springs PD fires officer who fatally shot 15-year-old boy
Oliver's mother, Linda, has told KXAS-TV her son is "a man of strong character."
Edwards' family issued a statement late Friday saying Oliver's arrest on the murder charge "brings hope that the justice system will bend against the overwhelming weight of our frustration."
A private funeral service for Edwards was held on Saturday.
Balch Springs police had originally said the vehicle Edwards was a passenger in was reversing "in an aggressive manner" toward officers, who had responded to a complaint about underage drinking.
Read Balch Springs PD change story on shooting of 15-year-old boy
But Police Chief Jonathan Haber later said video taken at the scene proved the vehicle was actually driving away. Oliver opened fire on the teenagers' car with a rifle. The bullets shattered the front passenger-side window and fatally struck Edwards.
The warrant issued on Friday for Oliver's arrest was based on evidence that suggested Oliver "intended to cause serious bodily injury and commit an act clearly dangerous to human life that caused the death," said the Dallas County Sheriff's Department, which is investigating the shooting along with the Dallas County District Attorney's Office.
Records show that Oliver was briefly suspended in 2013 following a complaint about his conduct while serving as a witness in a drunken-driving case.
Philip Hilder, a Houston criminal defense attorney and former federal prosecutor, said the issue of race will be "in the back of everybody's mind going forward in this case" but whether it's brought up at trial will be up to the judge.
"The fact (authorities) moved as rapidly as they have indicates confidence in their case and that they believe they will be able to prevail on the murder charge because in a situation like this, it's very unusual to have a charging decision so soon after the shooting," Hilder said.
___
Follow Juan A. Lozano on Twitter at www.twitter.com/juanlozano70