Faith-based movie addresses post traumatic stress disorder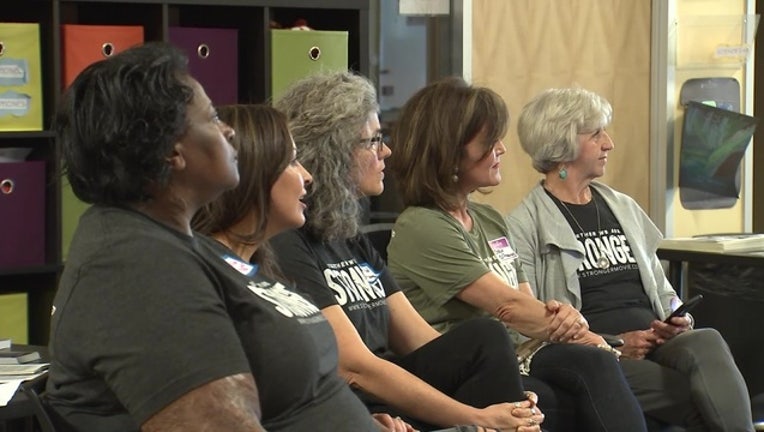 article
HOUSTON (FOX 26) -  
Millions of Americans suffer from post traumatic stress disorder and more people may suffer from it than you may realize. Many people with the disorder may not even realize that they are afflicted with it. That's why actors and organizers from the Houston area have teamed up to create a new faith-based movie titled 'We are Stronger." The movie is intended to get much needed help for people suffering from PTSD.         
Reflective Life Ministries and The Mighty Oaks Foundation are working together with the mission of producing the movie in order to touch the hearts of many and bring awareness that PTSD doesn't discriminate.        
"That is one of our goals, to show PTSD is not just a military issue -- it's first responders, burn survivors, those who've dealt with abuse or trauma in general," explains Reflective Life Ministries chief executive officer Carla McDougal. "I believe this film is going to show that, but also bridge a gap between those who don't understand and those who are experiencing it," She also serves as the executive producer of the movie.          
While the movie does feature the portrayal of a military veteran, it also demonstrates that many people don't realize their struggles are real and that it is PTSD that haunts them. 
"We have a call to action at end of the movie! We want everyone to leave with something than can do or with a place they can get help. Right there in their seats, we will have an app that they'll be encouraged to download called Stronger Alliance, and they can get resources, phone numbers from coast to coast, working with organizations across the country that deal with this very issue and help those in need.         
The Stronger Alliance app has taken months for Houston-area developers to complete. McDougal helped set up meetings with mental health professionals, to make sure they're aware of the movie and to make contacts with PTSD experts. 
"Many organizations don't know others exist," explains McDougal. If you're in California, but someone in Atlanta needs help, what if they have an alliance they could call and get help right then and there." That's exactly what the group will provide. McDougal says she hopes the film will not only be a movement to break down any stigmas about PTSD, but also help many more people be successfully treated for it. She also says she hopes for positive change with the appropriate medical care, coupled with care through Christ.
Bridget Caletka, who helped set up the group of Houston-area mental health professionals to talk to the cast and crew of "We Are Stronger," spoke with FOX 26 News.  
"We network and know what other providers are in the community, what is happening in our community, so that we can refer to our clients if they have a special needs for a PTSD group, we know who's running those groups and we can send our clients there," says Caletka.          
Experts and victims all agree that PTSD is a condition that not only affects a person, but his or her family and friends as well. The movie helps demonstrate that through several victims with a military veteran and a burn victim as two examples. 
Writer and director Robin Murray sets up the beginning of the film:  
Murray says at first, she thought it was a challenge to write a movie about something she had never experienced before. Then she realized there are plenty of others who haven't endured a traumatic event. That thought fueled her fire to help them better understand the pain PTSD can cause, when trauma does strike. She has also been meeting with Houston-area mental health professionals to make sure the wording is right.        
Lead actress Angela Sweet says her role helps her be the voice for caretakers and patients. 
"It allowed me to truly empathize with the women and men out there who live with it and project that on screen, so that people in the audience can truly understand what they go through," explains Sweet. She hopes the film will open eyes and hearts and bring about an understanding that we may need to approach things differently, when it comes to PTSD. 
Offering awareness alone just isn't enough. 
"The heart and goal and what the Lord has made this, is a tool to bridge the gap between awareness and empowerment, so our heart is following soldiers -- people suffering in silence and who move from being aware from what they're dealing with and then utilizing the resources that have been made available to them, to go back into leadership positions and find the purpose in their life," says Sweet.         
Justina Page, another actress from the Houston area, who is also a mother, portrays a powerful role in the movie. 
"My character is the voice of wisdom, hope, and comfort," describes Page. She has quite a personal story to tell and knows first hand about PTSD. She was in a horrific house fire in Houston that changed her life forever. 
"My family, myself, my husband and my six sons were in a very traumatic house fire in 1999 that resulted in the death of our 22-month-old twin, severely injuring the other twin and myself," describes Page. "All of my children and husband being burned, losing everything we had, and being in a coma for three months." She quickly learned that half of severe burn victims, like herself, suffer from PTSD.  
Page wants others to realize that circumstances like this affect people every day and that treatment is available to work through post traumatic stress. She believes the film "We Are Stronger" will live up to its name.  
"It is definitely going to do that for people!," adds Page. "This movie is going to offer hope and give them permission to seek help to form community and together make you stronger."
The Stronger Alliance app is going to connect anyone who believes they may have signs of PTSD with caretakers who have that specialty throughout the U.S., with many of them in the Houston area.        
The movie premieres on Saturday, May 13 in Richmond. It is expected to gain in popularity and be viewed around the nation.         
Watch the "We Are Stronger" movie trailer - http://www.strongermovie.com/
Tickets are still available for the premiere event by visiting https://us.eventbu.com/richmond/stronger-movie-premiere/2809406.
"We Are Stronger" on Facebook - https://www.facebook.com/WeAreStrongerMovie/?ref=br_rs