Fallen San Marcos PD officer makes final trip home, public invited to pay respects along route
SAN MARCOS, Texas - The public is encouraged to pay respects to San Marcos Police Department Officer Justin Putnam as he is transported from the Travis County Medical Examiner's Office in Austin to San Marcos.
The procession will leave Austin at 3 p.m. and travel down I-35 to San Marcos on its way to the Thomason Funeral Home in San Marcos located at 2001 Ranch Road 12. 
"Bystanders are asked to take extra precautions for officer safety during this procession, including keeping a safe distance from the procession as it passes," said Interim San Marcos Police Chief Bob Klett in a news release.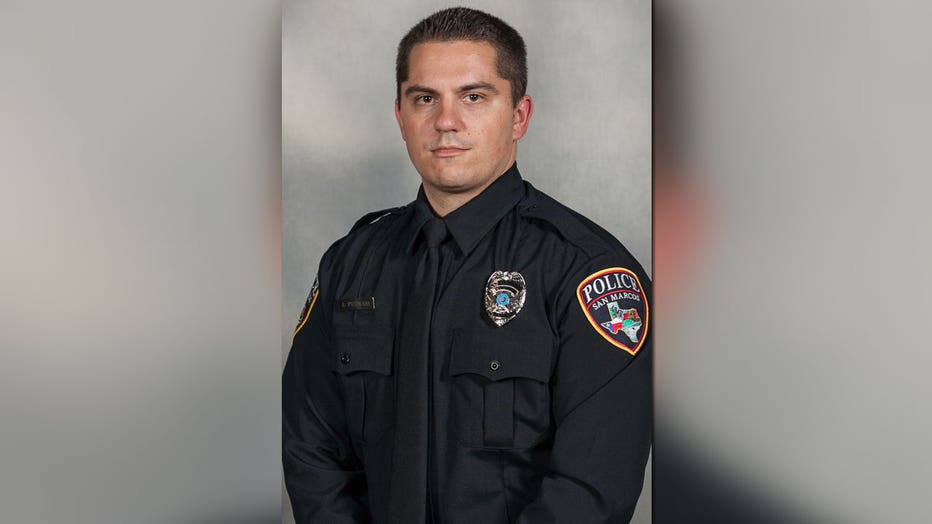 RELATED: San Marcos police officers, suspect identified in ambush shooting
The route back to San Marcos will exit at Yarrington (Exit 210), travel through the Blanco Vista neighborhood, back to IH-35, exit at Wonder World (Exit 202) and drive by the San Marcos Police Department, 2300 South Interstate 35 on the access road, turn around at McCarty Ln., back to Wonder World Dr. and then take the Wonder World extension toward Thomason Funeral Home. 
Visitors to the Blanco Vista Neighborhood are asked to park along side streets and not the thoroughfare streets in order to keep those clear for the procession vehicles and to allow bystanders to stand along the route.
The San Marcos Fire Department and San Marcos Electric Utility will have fire and bucket trucks stationed along the route at Yarrington and along Wonder World Dr. on the west side of the overpass in honor of Officer Putnam.
The procession is expected to last until about 3:20 p.m.
---------
Get breaking news alerts in the FOX 7 Austin News app. It is FREE!
---------
Due to COVID-19, bystanders expecting to encounter others are encouraged to wear a mask and keep a distance of at least six feet from others outside of their family unit. 
Officer Putnam was killed when he and two other officers were ambushed by a suspect with a rifle on April 18 when responding to a domestic dispute call.
RELATED: San Marcos: One officer dead, two others injured after being ambushed by suspect with rifle
Putnam graduated cum laude from Texas State University and had been a member of the SMPD since November 3, 2014. Putnam was engaged to be married. His father is a veteran of the Austin Fire Department.
Officer Justin Mueller and Officer Frano Stewart are both in critical but stable condition in the ICU at a hospital in Kyle.