Father, son arrested for transporting marijuana in San Marcos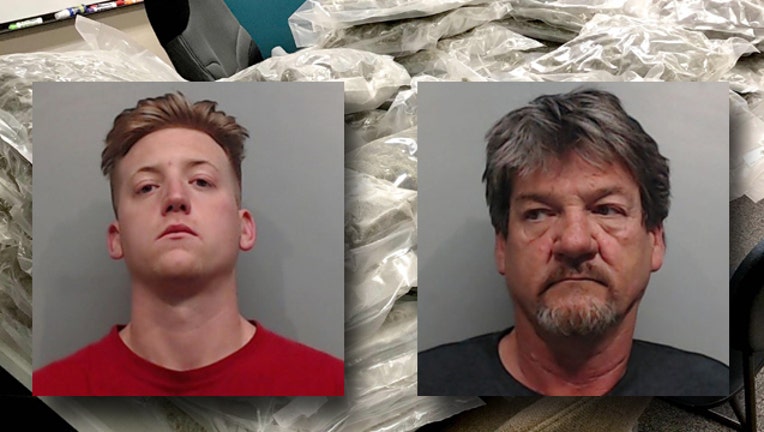 article
A father and son were arrested for transporting almost 50 pounds of high-grade marijuana and thousands of dollars in cash by police officers with the San Marcos Police Department. 
57-year-old Jack M. Maniscalco, Jr of Missouri City, Texas and 23-year-old Mason Dean Maniscalco of San Marcos have been arrested and charged with possession of marijuana and money laundering. 
According to the San Marcos Police Department, officers had received a tip regarding suspicious activities at an apartment complex on Craddock Avenue in San Marcos. Officers with the Hays County Narcotics Task Force began to investigate and observed two men transporting large cardboard boxes in a blue pickup truck. Uniformed police officers than conducted a traffic stop on Sessom Drive. 
49 pounds of marijuana, $26,000 in cash and a police radio were found in the vehicle. 
According to the Hays County Narcotics Task Force, the marijuana was most likely smuggled into Texas from out of state and intended for distribution within the San Marcos area. "Marijuana that is produced in states where medical or recreational use is legal is often diverted to other states, such as Texas, where it is resold at substantial profits," said Sergeant Wade Parham, commander of the Narcotics Task Force. "The San Marcos Police Department and Hays County Sheriff's Office remain committed to fighting the illicit drug trade on a local level, as we firmly believe that it makes our communities safer."
According to the San Marcos Police Department, more arrests are anticipated. 
The father and son are being held at the Hays County Jail. Bond has been set at $18,000 each.