First responder writes heartfelt post after being unable to save UCF student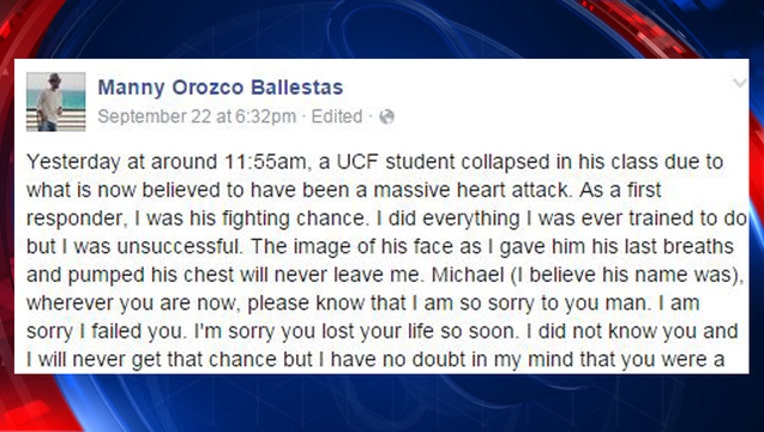 article
ORLANDO (FOX 13) - A first responder wrote a heartfelt plea for more awareness of being CPR-trained and having more defibrillators on hand after he was unable to save a student having a heart attack at the University of Central Florida.
"I am sorry I failed you. I'm sorry you lost your life so soon," said Manny Orozco Ballestas in a post on Facebook.
Ballestas said the student collapsed in class from a massive heart attack this week. "As a first responder, I was his fighting chance," he said. But though he did everything he was trained to do, Ballestas said he couldn't save him.
He hopes to help prevent deaths like these nationwide by spreading awareness of the importance of being trained in CPR or urging more AED machines to be available. "Every single second counts, trust me," he said.
Ballestas hopes to also send the message to his family that he tried his best to save their son.
"I will make his life meaningful somehow, someway. I promise," he wrote.
READ MORE: