Flood leaves residents without access to the main road in West Bastrop County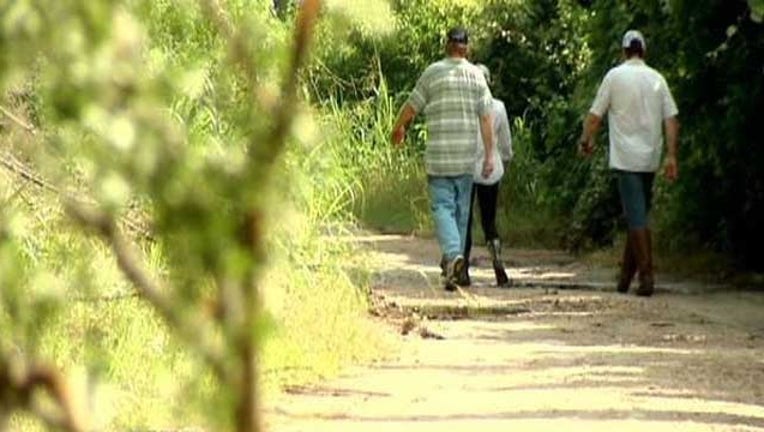 article
Its been two days since twelve families in Bastrop County have been able to get food and water.
Floods swallowed their bridge on Monday. It was their only real access to the main road.
Bastrop County Commissioner Bubba Snowden went to check on the residents on Wednesday. His only way of communicating was by yelling across the gaping hole. "I know there's a road back there but it won't get you all the way in and out of where they're at," The Precinct 4 Commissioner says. Fox 7 was there too, we couldn't get to the other side either. "They're completely stranded," he continued.
Residents say there are elderly in need of medicine, and that they haven't been able to take their kids to school.
The bridge Snowden says was wooden and being held up by metal pipe. Built in the 70's, along with the subdivision, Snowden says it was a disaster waiting to happen. "It was very dangerous and it wasn't much of a bridge to start with and I recommended people not to buy back here."
County records show both the road and the bridge are technically private property - meaning it's up to the residents to maintain. Snowden says both were "put in by developers" and that the County never absorbed it. County Judge Paul Pape says the property became a subdivision in the 70's and that the County established rules in the 80's. Now he says, there's a strict process before the County will absorb a road - and then ultimately maintain it.
But these residents say they do pay taxes, one of them pointing out that there's went up. They also say they've asked the County for years to help them shore up the bridge by sending someone out to advise them. And now that it's been destroyed, they are demanding the County step up to the plate and fix it. "If I start maintaining all of these private roads in Bastrop County, I couldn't take care of them," Snowden says.
As of right now the only way for residents to get to the other side is to cross over several other large properties. Those landowners have given the trapped residents permission to use it as a thruway. But because the road is still muddy, unless you have the right equipment it's nearly impossible. Patricia Gant owns one of those properties leading to the main road. "We do know this is a private road because we went through a real estate agent," she explains, "it says on our deed for our house that is a private road."
She's frustrated with the whole situation. "Everyone says they are going to wait until TXDot or FEMA does something," she says, "but we all know that's not happening and I'm not going to let people drive through my property for 8 months while we wait for a decision."
She's frustrated with the County too, especially she says after her conversation with the Commissioner, "he said it wasn't the County's problem and he isn't going to take liability for this."
Gant is working with her neighbors and the County, in hopes of trying to help find a long term solution for everyone. In the mean time, Snowden vows immediate relief for his trapped constituents, "right now my biggest concern is getting them from point a and point b." And he says, that also includes bringing in supplies if they need it.
But for the residents who live off of Wilberger Creek Drive, Snowden's promises may be too many years too late.