Fort Worth child found safe, Amber Alert canceled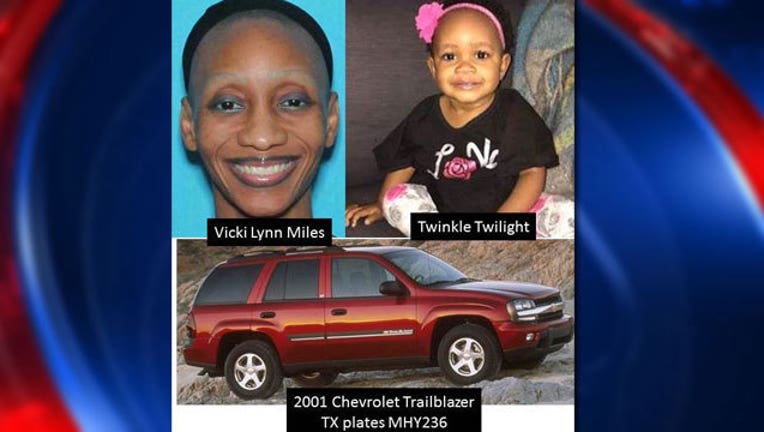 article
*Update* A Fort Worth child has been found safe after an Amber Alert was issued on November 15. Fort Worth police say the girl was located shortly before 8 a.m. inside the city limits.
No further information has been released at this time.
This is an update to an existing story. The original version of this story is as follows:
FORT WORTH, Texas— The Fort Worth Police Department is searching for a 15-month-old child believed to have been abducted by a 42-year-old woman. 
Twinkle Twinkie Twilight is described by authorities as an African-American child with black hair and brown eyes,

-15 months old
-2 feet in height
-40 pounds in weight 
Twilight was last seen wearing a gray shirt and blue jeans.
Police believe Vicki Lynn Dixon (Miles), 42, is connected with Twilight's abduction. Dixon is described as an African-American woman with brown hair and brown eyes,
-5' 3" in height
-114 pounds in weight
Authorities say Dixon was last seen in Fort Worth driving a red, 2001 Chevrolet, Trail Blazer with a Texas license plate number of MHY236.
Law enforcement officials believe this child to be in grave or immediate danger. If you have any information regarding this abduction, call the Fort Worth PD at 817-335-4222