Honor Flight reunites WWII Army nurses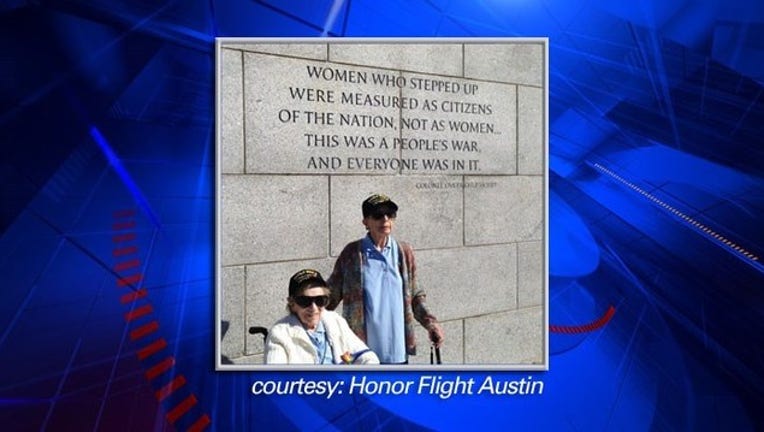 article
AUSTIN, Texas - Honor Flight Austin's 19th Honor Flight to Washington, D.C. had 34 veterans on board. One of the WWII veterans was former Army Captain Rachel "Rae" Clark who served in the Army as a surgical nurse. 94-year-old Clark was reunited with her longtime friend and WWII comrade, 91-year-old Maclovia Cribbs, who lives in D.C.

In 1944, Clark was sent to Paris, France where she met fellow surgical nurse Cribbs. The two reunited at the World War II Memorial on September 27th as part of a special ceremony honoring all the WWII veterans in attendance.

Cribbs is originally from the Rio Grande Valley of Texas and served in the U.S. Army and Air Force. Cribbs was stationed in a hospital outside of Paris. She stood along the Champs-Elysees during the historic moment when the lights came on at the Arc de Triomphe, symoblizing the end of the war in Europe.

Clark currently lives in Texas. She joined the Army Nurse Corp in September 1942. Clark was sent to England on the Queen Mary and says she remembers sleeping in air raid shelters to escape the bombing in London.

Clark says, "I timed my surgical sterilizer by Big Ben. I could just look out the window!"

The World War II Memorial was dedicated in 2004, 59 years after the war ended. It honors the 16 million who served in the armed forces of the United States and the more than 400,000 who died.

Honor Flight Austin's mission is to fly our WWII veterans free of charge to visit those memorials dedicated to honor their sacrifices. It's estimated we are losing these heroes at the rate of approximately 640 a day.

For more information about Honor Flight Austin, you can click here.