Led Zeppelin songwriter ignorant of similar 'Stairway' riff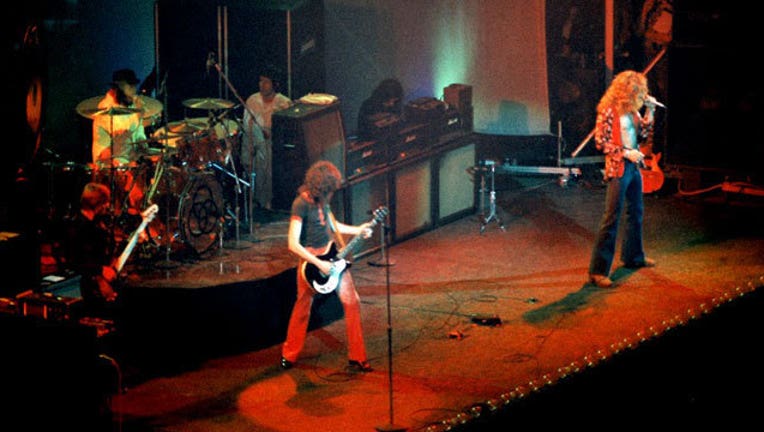 article
LOS ANGELES (AP) — Led Zeppelin guitarist Jimmy Page testified Wednesday that until a few years ago, he'd never heard a song the megastar band is accused of ripping off for the introduction to "Stairway to Heaven."
Page claimed he didn't even know he owned the album by the band Spirit that contained the short instrumental tune "Taurus" that has a guitar riff very similar to the intro of the classic 1971 rock ballad.
"Something like that would stick in my mind," Page told jurors in his defense during a copyright infringement trial in federal court. "It was totally alien to me."
A lawyer for the estate of Spirit's late guitarist, Randy Wolfe, also known as Randy California, contends the famous descending-chord progression that begins "Stairway" was lifted from the Spirit tune, which was released a few years earlier.
An eight-member jury must decide whether the two sequences are substantially similar.
While musical experts not involved in the case have said the two are similar, they have also said the sequence is common and has appeared in other pieces from decades and even centuries ago.
Perhaps a larger hurdle for the plaintiffs is that the jury must find the recording of "Stairway" is similar to the sheet music for the song because that's what is filed with the U.S. Copyright Office. Videos played in court of other musicians playing from the sheet music differ significantly from the recorded version of "Taurus."
Page said he had never seen the sheet music and couldn't compare the two tunes. He wasn't allowed to comment on whether he found the riff on the "Taurus" recording similar to "Stairway" after his lawyer objected to the question.
Page said he only learned of the song when his son-in-law told him that comparisons with "Stairway" were cropping up online. After listening to the two tracks, he said he discovered he had Spirit's first album, which contained "Taurus."
"I don't know how it got there or anything," Page said. "I can tell you I've never heard this album."
Page, however, acknowledged that Led Zeppelin used a riff from another song, "Fresh Garbage," off Spirit's debut album in a medley when it first started touring. Page insisted he'd heard it on the radio.
Clad in a dark gray suit, a vest and tie and wearing his white shoulder-length hair in a ponytail, Page acknowledged he liked Spirit and had played the band's second album, which contained the band's biggest hit, "I Got a Line on You," many times. He said he has found at least five Spirit albums in his collection of some 10,000 records and CDs.
Earlier in the day, former Spirit bassist Mark Andes testified that both songs, played by an acoustic guitarist on a video aired in court, sounded the same.
In his testimony, Andes said Spirit played "Taurus" in 1968 at a Denver show where Zeppelin made its American debut as the opening act. He said Zeppelin singer Robert Plant drank beer and played the billiards-like game snooker with him after a Spirit show in Birmingham, England.
"Yeah, we hung out. We had a blast," Andes said.
Attorney Francis Malofiy is trying to show that Plant and Page knew the band and its work to show they probably were familiar with "Taurus" when Page wrote the music for "Stairway."
Page later testified he didn't have any interactions with Spirit or remember sharing a bill with them. He said he thought the U.S. debut was to open for Vanilla Fudge, also on the bill, who he said were "great heroes of ours."
Attorney Steven Weinberg, a music copyright lawyer who is watching the case but not involved in it, said he found Page charming, confident and well prepared, though not entirely credible in his denial of ever hearing Spirit's first album.
The fact that Led Zeppelin used "Fresh Garbage" in its earliest days implies that Page and Plant liked the band and may have emulated more than one song, he said.
"If they used one riff from Spirit, they might have used another riff from Spirit," he said.
Plant and bandmate John Paul Jones are also expected to testify, though Jones has been dismissed as a defendant in the case.
Led Zeppelin has settled several similar copyright disputes over songs such as "Whole Lotta Love" and "Dazed and Confused," but the judge has barred a lawyer for the late Spirit guitarist from introducing evidence from those cases.
"Stairway to Heaven" has generated hundreds of millions of dollars over the years.
___
Associated Press writer Robert Jablon contributed to this report.