Maryland man thriving one month after pioneering pig heart transplant
One month after a Maryland man received an experimental pig heart transplant, the patient is doing well and shows no sign of infection or rejection of the organ, doctors say.
"We are withdrawing all the drugs that were initially supporting his heart," Muhammad Mohiuddin, M.D., professor of surgery and co-director of the cardiac xenotransplantation program at the University of Maryland School of Medicine, said in an update shared by the University of Maryland Medical Center (UMMC) on Friday.
"So now his heart is doing everything on its own."
Lawrence Faucette, 58, who is a 20-year Navy veteran and a married father of two, had end-stage heart disease when he arrived at UMMC.
"He was deemed ineligible for a traditional transplant with a human heart due to his pre-existing peripheral vascular disease and complications with internal bleeding," Dr. Bartley Griffith, professor of surgery at the University of Maryland School of Medicine, who performed the surgery, told Fox News Digital.
"My only real hope left is to go with the pig heart, the xenotransplant," said Faucette during an interview from his hospital room a few days before his surgery, as reported by UMMC. 
"At least now I have hope, and I have a chance."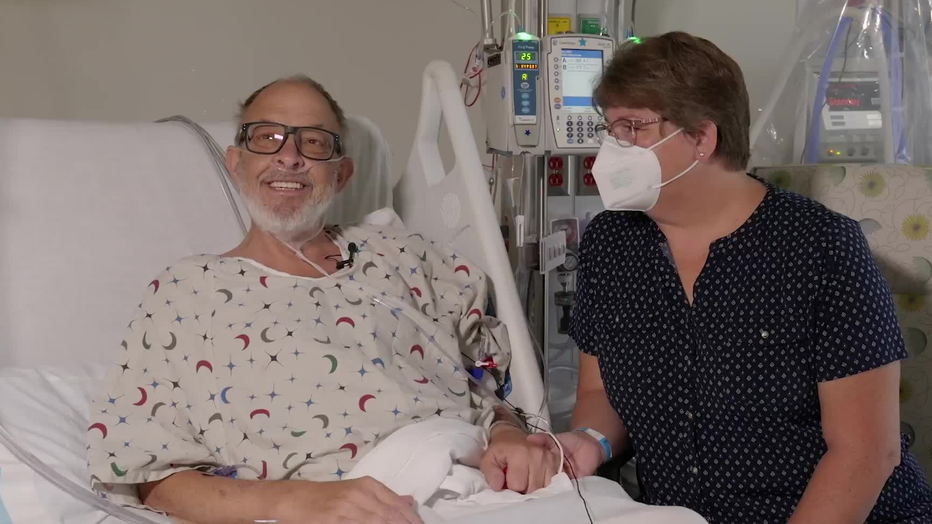 Added his wife, Ann Faucette, "We have no expectations other than hoping for more time together. That could be as simple as sitting on the front porch and having coffee together."
The U.S. Food and Drug Administration (FDA) granted emergency approval for Faucette's surgery on Sept. 15 through its single-patient expanded access ("compassionate use") pathway. 
"This approval process is used when an experimental medical product — in this case, the genetically modified pig's heart — is the only option available for a patient faced with a serious or life-threatening medical condition," Griffith said.
"The approval was granted in the hope of saving the patient's life."
The FDA describes "compassionate use" as "a potential pathway for a patient with a serious or immediately life-threatening disease or condition to gain access to an investigational medical product (drug, biologic or medical device) for treatment outside clinical trials when no comparable or satisfactory alternative therapy options are available."
Faucette had the eight-hour surgery on Sept. 20.
The procedure itself is similar to a traditional human heart transplant, "with some surgical adjustments made for some anatomical differences," the surgeon said.
Pigs are considered the most ideal organ donor for a xenograft — a transplant from one species to another — because their organ size, physiological metabolism and immune system are similar to those of human beings, Griffith said. 
Before transplanting the pig's heart, the scientists had to "knock out" three genes in the donor pig in order to prevent the recipient's antibodies from rejecting the organ.
"Six human genes responsible for immune acceptance of the pig heart were inserted into the genome," said Mohiuddin in a statement to Fox News Digital. 
"One additional gene in the pig was knocked out to prevent excessive growth of the pig heart tissue, for a total of 10 unique gene edits made in the donor pig."
There were risks involved in the procedure, the surgeons acknowledged.
"Acute rejection of the heart on the operating table and other complications could have led to death, since the patient was very sick before the transplant," Mohiuddin noted.
Only one other patient has had this experimental transplant. 
David Bennett, 57, received a genetically modified pig heart on Jan. 7, 2022. 
Similar to Faucette, Bennett received emergency authorization from the FDA, as he was also in end-stage heart failure and did not qualify for a traditional heart transplant.
That surgery was deemed a success, but the patient died from heart failure two months later.
"The extensive investigation following Mr. Bennett's death demonstrated that the pig heart functioned well in the patient for several weeks with no signs of acute rejection," Griffith told Fox News Digital via email.
"Mr. Bennett's death from heart failure was likely caused by a multitude of factors, including his poor state of health that left him hospitalized on a heart-lung bypass machine for six weeks prior to the transplant," the doctor added.
Prior to performing the first surgery on Bennett in 2022, the UMMD research team — which included Griffith and Mohiuddin — spent five years perfecting the surgical technique on non-human primates. 
Looking ahead, Faucette's doctors will continue to monitor his progress, Griffith noted — "likely more extensively than a traditional heart transplant patient."
The medical team is now focusing on building Faucette's strength.
"We are working very hard with our physical therapy team, who are spending a lot of time helping him regain the strength that he's lost during last month of his hospital stay," Mohiuddin said in the statement.
The hope is that this successful surgery will pave the way for clinical trials, the surgeon said, which are required before the FDA can approve xenotransplants for use in the general population of patients in need of organs.
Despite efforts to encourage organ donation, Griffith warned that there is still a critical shortage of organs for transplant in the U.S. and around the world.
"Through xenotransplantation, we can potentially create an unlimited supply of hearts, kidneys and other organs for transplant, available practically on demand," he said. 
"In some cases, we see xeno-organs used as bridges to a human organ transplant, but we think they could be good long-term solutions for patients who may have no other options."
Read more via FOX News.