Native American group hopes Taylor Swift's influence could end tomahawk chop during Chiefs games
A Native American organization is hoping Taylor Swift's emergence at a Kansas City Chiefs game over the weekend and link to tight end Travis Kelce can help turn the tide and end the tomahawk chop.
Swift was in a suite next to Donna Kelce, Travis' mother, during the Chiefs' 41-10 win over the Chicago Bears on Sunday. In one video, fans around her are doing the tomahawk chop, but Swift doesn't join in.
Not in Our Honor founder Rhonda LeValdo told TMZ that she hopes Swift can help end the chop, which is a gesture used by some fans to celebrate but which some people say is a racist stereotype of Native Americans.
"We remain hopeful that an outside influence like Ms. Swift could be an ally for us in moving the conversation forward on why the chop is a racist act," LeValdo told the outlet.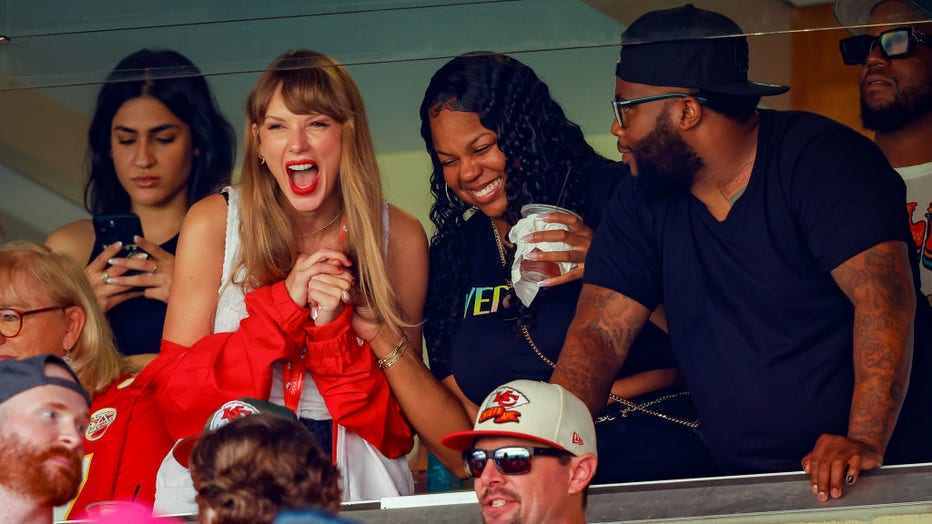 KANSAS CITY, MISSOURI - SEPTEMBER 24: Taylor Swift watches during a regular season game between the Kansas City Chiefs and the Chicago Bears at GEHA Field at Arrowhead Stadium on September 24, 2023 in Kansas City, Missouri. (Photo by David Eulitt/Get
"To us, that hand gesture is synchronized racism. We implore Ms. Swift to take the time to understand our perspective and the scientific and psychological research into the harm to youth and communities caused by such behavior."
LeValdo was among the Native American groups who implored the Chiefs to drop the nickname, mascot and the tomahawk chop while she was at the Super Bowl this past February.
TAYLOR SWIFT, TRAVIS KELCE APPEAR TO LEAVE STADIUM TOGETHER AFTER CHIEFS WIN
But Chiefs president Mark Donovan didn't appear to give any indication that a change was on the table.
"We also respect that we need to continue to educate and raise awareness of the Native American culture and the things we do to celebrate, that we've done more over the last seven years — I think — than any other team to raise awareness and educate ourselves," he said.
In 2020, the organization banned fans from donning headdresses, war paint and native clothing at Arrowhead Stadium. The team attempted to change the tomahawk chop celebration with cheerleaders using a closed fist and an open palm.
CLICK HERE TO GET THE FOX NEWS APP
The Chiefs started as the Dallas Texans in 1960 and moved to Kansas City in 1963. Mayor H. Rose Bartle got permission from the Northern Arapaho at the time and the team documented tribal officials confirming it, Donovan said earlier this year.
The Associated Press contributed to this report. Read more of this story from FOX News.