North Dakota pipeline protest prompts more than 80 arrests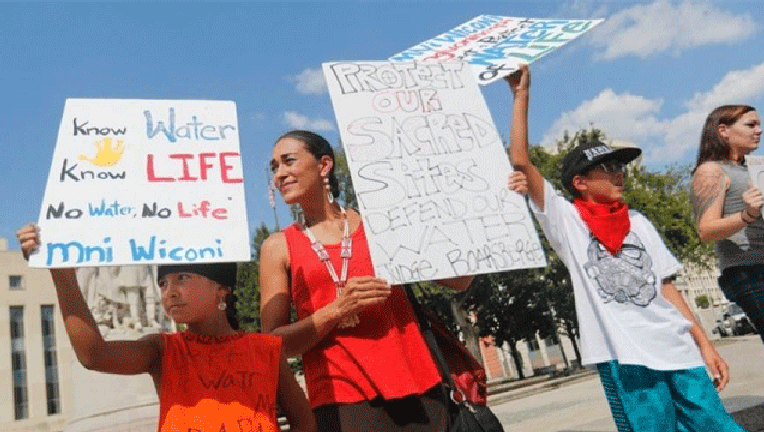 article
MANDAN, N.D. (AP) — More than 80 people protesting the Dakota Access pipeline were arrested Saturday during a demonstration that gathered about 300 people at a construction site in North Dakota and prompted law enforcement officers to use pepper spray.
Morton County sheriff's office spokesman Rob Keller said authorities were called at 5:20 a.m. Saturday to a pipeline construction site located about five miles from an area where protesters have been camping out for weeks near the confluence of the Missouri and Cannonball rivers. The confrontation between officers and protesters lasted five hours.
The sheriff's office released a statement, saying officers used pepper spray when some protesters attempted to breach a line that law enforcement officers had formed between demonstrators and construction equipment. The statement said one protester attempted to grab an officer's pepper spray canister, spraying the officer in the face and blinding him for five minutes.
Sheriff Kyle Kirchmeier said Saturday's incident showed that "this protest is not peaceful or lawful."
"It was obvious to our officers who responded that the protesters engaged in escalated unlawful tactics and behavior during this event," he said. "This protest was intentionally coordinated and planned by agitators with the specific intent to engage in illegal activities."
Protests have drawn thousands of people to the area where Texas-based Energy Transfer Partners is trying to finish building the 1,200-mile pipeline. More than 220 people have now been arrested since demonstrations began in August.
The sheriff's office said four people who attached themselves to a sport utility vehicle parked on private property near construction equipment were among those arrested Saturday. Two of the individuals attached themselves to the outside of the vehicle, one person was attached to the steering wheel, and another had his body outside of the vehicle with his arm fed through a hole in the door and his hand in a bucket of hardened concrete.
Those arrested Saturday are facing charges including assault on a peace officer, engaging in a riot and criminal trespass.