Obama shortens terms for 214 prisoners; 67 had life sentence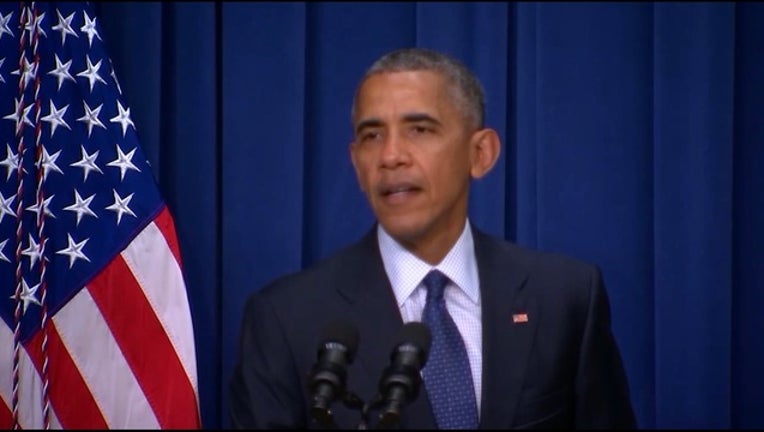 article
WASHINGTON (AP) — President Barack Obama on Wednesday cut short the sentences of 214 federal inmates, including 67 life sentences, in what the White House called the largest batch of commutations on a single day in more than a century.
Almost all the prisoners were serving time for nonviolent crimes related to cocaine, methamphetamine or other drugs, although a few were charged with firearms violations related to their drug activities. Almost all are men, though they represent a diverse cross-section of America geographically.
Obama's push to lessen the burden on nonviolent drug offenders reflects his long-stated view that the U.S. needs to remedy the consequences of decades of onerous sentencing requirements that put tens of thousands behind bars for far too long. Obama has used the aggressive pace of his commutations to increase pressure on Congress to pass a broader fix and to call more attention to the issue.
One of the inmates, Dicky Joe Jackson of Texas, was given a life sentence in 1996 for methamphetamine violations and for being a felon with an unlicensed gun. He told the ACLU in a 2013 report that a death sentence would have been preferable, adding, "I wish it were over, even if it meant I were dead."
Another recipient, Debra Brown of Tennessee, was convicted of selling cocaine in 2002 and sentenced to 20 years. Both Brown's and Jackson's sentences will now end Dec. 1, along with most of the rest of those receiving commutations Wednesday.
All told, Obama has commuted 562 sentences during his presidency — more than the past nine presidents combined, the White House said. Almost 200 of those who have benefited were serving life sentences.
"All of the individuals receiving commutation today — incarcerated under outdated and unduly harsh sentencing laws — embody the president's belief that 'America is a nation of second chances,'" White House counsel Neil Eggleston wrote in a blog post.
Eggleston said Obama examines each clemency application on its specific merits to identify the appropriate relief, including whether the prisoner would be helped by additional drug treatment, educational programming or counseling. He called on Congress to finally pass a criminal justice overhaul to bring about "lasting change to the federal system."
Presidents tend to use their powers to commute sentences or issue pardons more frequently at the end of their presidencies, and Obama administration officials said the rapid pace would continue during Obama's final months.
"We are not done yet," Deputy Attorney General Sally Yates said. "We expect that many more men and women will be given a second chance through the clemency initiative."
Though there's broad bipartisan support for a criminal justice overhaul, what had looked like a promising legislative opportunity for Obama's final year has mostly fizzled. As with Obama's other priorities, the intensely political climate of the presidential election year has confounded efforts by Republicans and Democratic in Congress to find consensus.
Obama has long called for phasing out strict sentences for drug offenses, arguing they lead to excessive punishment and incarceration rates unseen in other developed countries. With Obama's support, the Justice Department in recent years has directed prosecutors to rein in the use of harsh mandatory minimums.
The Obama administration has also expanded criteria for inmates applying for clemency, prioritizing nonviolent offenders who have behaved well in prison, aren't closely tied to gangs and would have received shorter sentences if they had been convicted a few years later.
Civil liberties groups praised that policy change but have pushed the Obama administration to grant commutations at a faster pace. The Clemency Resource Center, part of NYU School of Law, said more than 11,000 petitions are pending at the Justice Department and that the group believes 1,500 of them meet the administration's criteria to be granted.
But the calls for greater clemency have sometimes sparked accusations from Obama's opponents that he's too soft on crime, an argument that is particularly resonant this year as presidential candidates Donald Trump and Hillary Clinton trade claims about who is best positioned to keep the country safe.
"Many people will use words today like leniency and mercy," said Kevin Ring of the group Families Against Mandatory Minimums. "But what really happened is that a group of fellow citizens finally got the punishment they deserved. Not less, but at long last, not more."
___
Online:
Obama clemency initiative: https://www.justice.gov/pardon/clemency-initiative
___
Reach Josh Lederman on Twitter at http://twitter.com/joshledermanAP