Ophelia's remnants continue to batter US coast with large waves, strong winds from mid-Atlantic to Northeast
EMERALD ISLE, N.C. - Large waves continue to batter the coast, and some areas have started to see strong winds and heavy rain again as the remnants of what was once Tropical Storm Ophelia continue to make their way from the mid-Atlantic into the Northeast, causing widespread flooding and tens of thousands of power outages along its journey.
High tide occurs around 3:30 p.m. Sunday in Manasquan, New Jersey, and FOX Weather meteorologist Jane Minar says waves are getting larger and water is flowing higher as conditions worsen.
An angry ocean is seen on the Delaware coast on Saturday morning following Tropical Storm Ophelias landfall in Emerald Isle, North Carolina. (@KnaptonOliver via X)
"We have 9-12 foot breakers right now, and you can just see how choppy the seas are," Minar said. "Typically, on a nice summer day, this is where you have dozens of surfboards in the water. Not one today. And that's a smart decision because it is so dangerous. These waters, there is so much energy."
Minar said the water has been rising all morning and has now reached a sidewalk along the beach in Manasquan.
"This is the type of coastal flooding that we're talking about," Minar continued. "Which is why there's a Coastal Flood Advisory for Manasquan, and really the entire New Jersey coastline until 9 p.m. (Sunday) evening."
OPHELIA WHACKS EAST COAST WITH WHIPPING WINDS, FLOODING
Remnants of Ophelia to impact Northeast, New England at start of new workweek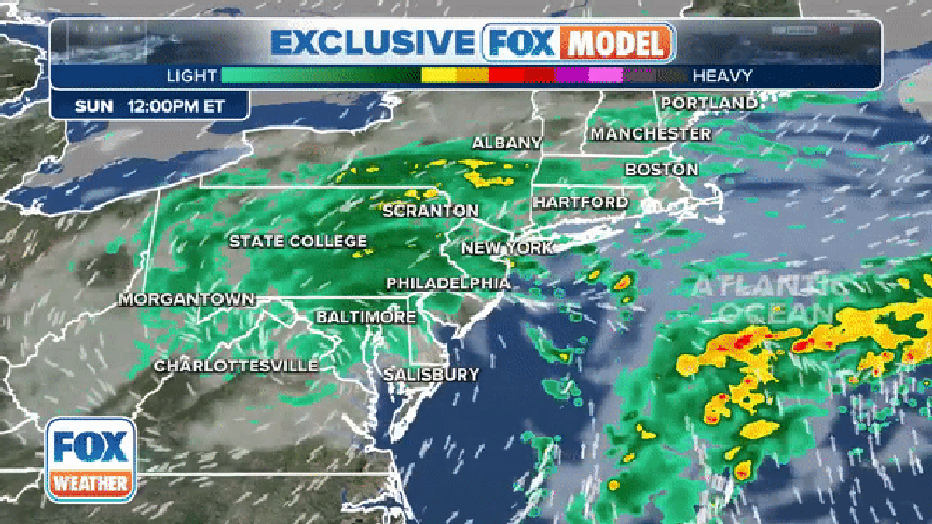 The exclusive FOX Model showing conditions on Sunday, September 24, 2023. (FOX Weather)
Ophelia made landfall in North Carolina early Saturday morning as a strong tropical storm, battering the mid-Atlantic states with ferocious winds, heavy rain and a dangerous storm surge that led to widespread flooding across the region.
The National Hurricane Center has passed forecast updates on Ophelia over to NOAA's Weather Prediction Center, which says the remnants from the once-tropical storm are expected to continue north along the Interstate 95 corridor through the start of the new workweek, spreading heavy rain and strong winds from Philadelphia through New York City to Hartford, Connecticut, Providence, Rhode Island and Boston.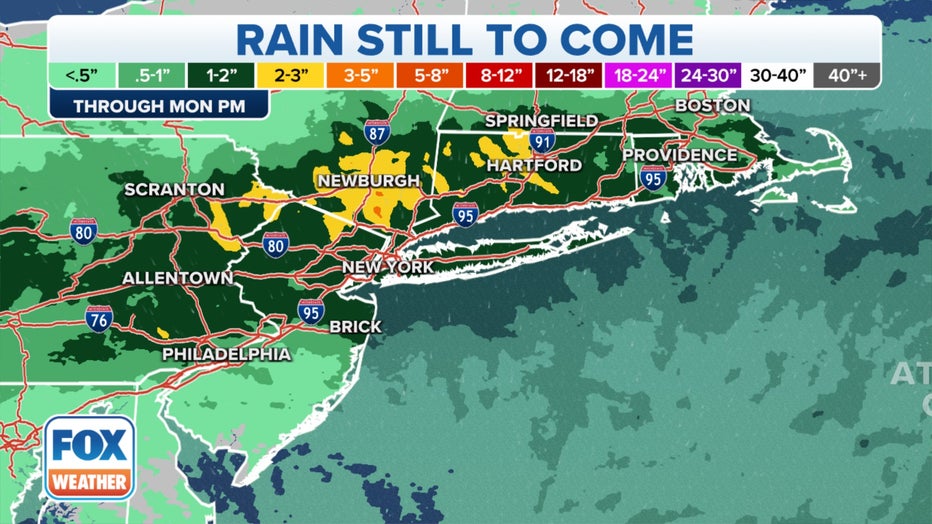 An additional few inches of rain from Ophelia is expected in the Northeast and New England. (FOX Weather)
Most areas seeing the effects from Ophelia in the Northeast and New England can expect an additional 1 to 2 inches of rain through the start of the workweek.
However, higher amounts between 2 and 3 inches are possible in parts of New York's Hudson Valley and central Connecticut.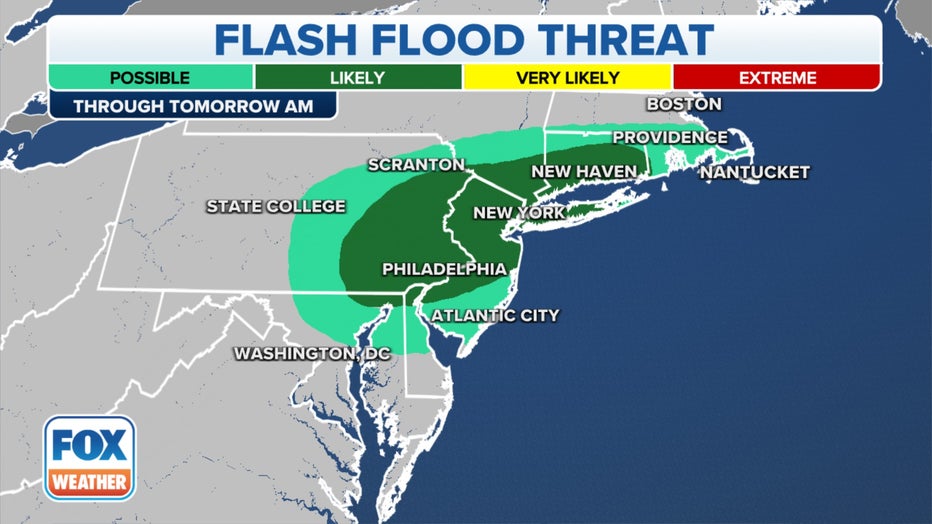 The flood threat continues on Sunday from the mid-Atlantic to New England. (FOX Weather)
These areas don't need the extra rain as the ground is already saturated from a wet and stormy summer. Hartford, for example, is seeing rain totals nearly a foot above average for this time of year.
Flooding is likely from New Jersey and eastern Pennsylvania through the New York City tri-state area and across Connecticut. As what's left of Ophelia continues to move to the northeast, flooding is still possible in places like Maryland, Rhode Island and Massachusetts.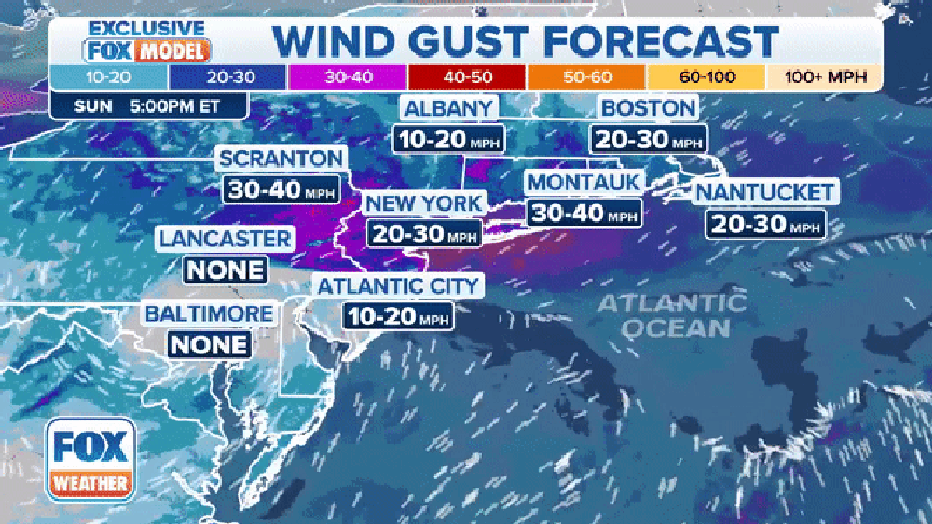 The wind gust forecast through Tuesday, September 26, 2023.
Gusty winds from Ophelia's remnants will continue to be an issue as we end the weekend and begin a new workweek.
Many inland areas in the Northeast and New England could see winds gusting to between 20-30 mph.
However, ferocious wind gusts are expected along the coast from New Jersey to New England. Montauk, New York, on Long Island, can see wind gusts to 40-50 mph on Monday. Nantucket, Massachusetts, which saw strong winds a week ago as Hurricane Lee passed the area to the east, could also see high wind gusts around 30-40 mph.
'WHAT HAVE YOU GOT US INTO?': COUPLE SPENDS ANNIVERSARY IN MIDDLE OF OPHELIA'S WRATH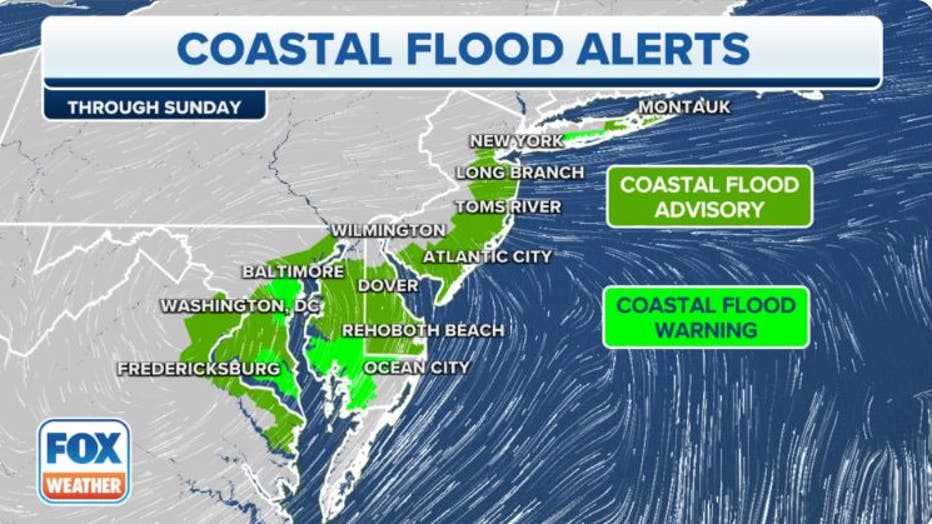 A graphic showing coastal flood alerts along the East Coast.(FOX Weather)
With strong winds expected to continue to blast the East Coast, there is a concern of more coastal flooding.
Because of this threat, Coastal Flood Warnings and Coastal Flood Advisories stretch from Virginia to New York and will remain in effect through Sunday evening as large waves pound the shoreline.
Flooding leads to water rescues in mid-Atlantic
Coastal communities from the Carolinas to New Jersey were flooded as Ophelia spun across the region, with the U.S. Coast Guard announcing it rescued five people on Friday from an anchored catamaran in Cape Lookout, North Carolina.
The Coast Guard said the group, which included three children, were on the moored vessel when the conditions on the water became dangerous.
Seas were reported to be about 6 to 8 feet, and winds were blowing just below tropical storm force when the rescue occurred.
COAST GUARD RESCUES 5 BOATERS FROM OUTER BANKS DURING OPHELIA
Despite pleas from first responders to stay home during the storm, some drivers who decided to venture out needed help after getting vehicles stuck in floodwaters.
At least one driver in Stone Harbor, New Jersey, needed help after getting stuck, and video from the area showed the roadway covered with water and high-water vehicles assisting during the rescue.
The fierce winds also caused more than 70,000 power outages during the height of the storm in the mid-Atlantic. Crews have been out in full force working to restore power, and data from PowerOutage.us shows most people have been brought back online.
Floodwaters being pumped into the ocean near Ophelia's landfall location
Ophelia made landfall near Emerald Isle around 6:15 a.m. Saturday with maximum sustained winds of about 70 mph – just shy of reaching hurricane strength. 
North Carolina's Department of Environmental Quality issued an alert on Sunday warning swimmers and surfers to stay out of the water in Emerald Isle because floodwaters from the storm are being pumped into the ocean surf in the region.
Officials said the decision to pump floodwaters into the ocean was made to minimize flood damage and to ensure roads are accessible for emergency vehicles.
"These waters can contain pollutants such as waste from wildlife and pets, oil and gasoline from parking lots and waste from septic systems or sewers," officials warned in a news release.
Officials said signs will be placed at discharge sites along the ocean beach to warn the public about possible health risks.
However, those notices do not imply that disease-causing organisms are present in the water but identify an increased chance that contamination and adverse health effects could occur.
Signs will be removed from the area 24 hours after pumping stops, officials said.