Gates will be locked and park rangers furloughed at national parks if government shuts down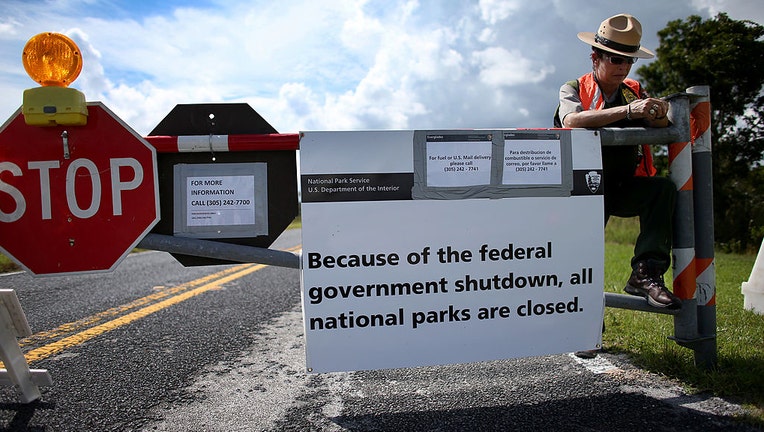 article
PHOENIX - Entrances to national parks will be blocked and thousands of park rangers will be furloughed if Congress doesn't reach a budget agreement this weekend, the Department of Interior said Friday.
The stance is a reversal from five years ago when the Trump administration kept some iconic parks open in a move that has been lambasted as illegal by the Government Accountability Office, the congressional watchdog.
This time around, the majority of more than 420 national park units will be off-limits to the public, Interior officials said. The governors of Arizona and Utah vowed to keep some of the most iconic parks open with state funding, including Grand Canyon and Zion.
RELATED: Kevin McCarthy rejects Senate spending bill while scrambling for House plan to avert shutdown
Whether tourists can access other national parks will depend on size, location and other factors. Generally, if a site is closed or locked during non-business hours it will remain that way, Interior officials said. Places like the National Mall will stay open, but there are no guarantees that restrooms or trash will be maintained.
"The public will be encouraged not to visit sites during the period of lapse in appropriations out of consideration for protection of natural and cultural resources, as well as visitor safety," the Interior Department said in a statement.
The director of the National Park Service can enter into non-reimbursable arrangements with state, tribal or local governments, or third parties for donations to fund park operations, the department said. Shutdown contingency plans were expected to be posted online early Friday.
RELATED: A government shutdown is looming this weekend. What it means, who's impacted and what's next?
The nonprofit National Parks Conservation Association doesn't oppose such agreements but noted that keeping sites open during a shutdown without sufficient staff and other resources can be be disastrous.
For example, trash cans and portable toilets overflowed at Joshua Tree National Park during a shutdown in late 2018 and early 2019 that lasted 35 days. Some tourists driving off road damaged the fragile ecosystem.
Sen. John Barrasso, a Republican representing Wyoming, on Thursday urged Interior Secretary Deb Haaland to keep the parks open with previously collected fees. The Trump administration did so in 2018 and 2019 in violation of appropriations laws, the congressional watchdog said.
Democratic Arizona Gov. Katie Hobbs and Republican Utah Gov. Spencer Cox said they will tap state funds to ensure visitors can still enjoy the dramatic depths of the Grand Canyon and the soaring red cliffs of Zion Valley, among other parks.
RELATED: Here's how a government shutdown could disrupt your fall travel
They cited the economic benefits to their states and small communities that depend on tourism.
National parks collectively could lose nearly 1 million visitors daily during a shutdown, and gateway communities could lose as much as $70 million, the conservation association said.
Arizona Lottery funds would help keep the Grand Canyon park open at a basic level, Hobbs has said.
Arizona paid about $64,000 a week during the 35-day shutdown to cover restroom cleaning, trash removal and snow plowing at Grand Canyon. People with permits to hike in the backcountry or raft on the Colorado River could still go, but no new permits were issued.
Hotels and restaurants remained open.
Those who will work in another potential shutdown include emergency services workers at Grand Canyon who protect visitors and the roughly 2,500 people who live within the national park, Grand Canyon spokeswoman Joëlle Baird said.
Utah paid some $7,500 daily during the last part of December 2018 to keep Zion, Bryce Canyon and Arches running during a shutdown. The nonprofit Zion Forever Project put up $16,000 to pay a skeleton crew and keep bathrooms and the visitor center open at Zion, which continued drawing several thousand visitors daily.
This year, Colorado Gov. Jared Polis directed the state's Department of Natural Resources to develop a plan to operate and protect resources at Rocky Mountain National Park and three others.
In South Dakota, Gov. Kristi Noem was reviewing a shutdown's possible impact on national parks, including Mount Rushmore.
Montana Gov. Greg Gianforte's office didn't say if the state would spend money to keep Glacier or Yellowstone national parks open. Most of Yellowstone is in Wyoming but three of the five entrances are in Montana.
Wyoming's Republican Gov. Mark Gordon is awaiting more information from Interior and the White House to better understand the state's options, spokesman Michael Pearlman said.
In Washington state, home to Mount Rainier and Olympic national parks, Gov. Jay Inslee has no plans to provide more funding or staff to national parks if there's a shutdown. California Gov. Gavin Newsom's administration said it won't pay to keep national parks open.
AP staff writers Ed Komenda in Olympia, Washington; Amy Beth Hanson in Helena, Montana; Matthew Brown in Billings, Montana; Jesse Bedayn in Denver; Tran Nguyen in Sacramento; and Matthew Daly in Washington contributed to this report.